To Ketawai Island

Beez Neez
Skipper and First Mate Millard (Big Bear and Pepe)
Fri 21 Oct 2016 08:30
To Ketawai – off Bangka Island
Up came the anchor at twelve thirty, Beez Neez the last of the yachts to leave the wonderful experience that Belitung has been. We poked out of the bay, Lengkuas Lighthouse a tiny image in the centre of the picture.
To our right thunder and lightning indicating the edge of a squall, tucked nearby we found good winds and within two hours of leaving WE SWITCHED THE ENGINE OFF. Bliss, that hasn't happened since we arrived in Indonesian waters in July. Racing along on flat water, I lost badly at backgammon, five nil I think you'll find. Growling and snarling. Then I had eight wins on the trot at Tri-ominoes. My turn to growl.......
Several chums out and about on the AIS, the closest to pass half a mile in front was OOCL Guangzhou, I pulled up her stats, a big girl.
I adjusted our course slightly and OOCL Guangzhou passed in front by nearly a mile.
A fine looking chum.
Chums always seem to take a very long time to near you but as soon as they pass they are soon a long way off. We hope OOCL Guangzhou has a safe passage over the next five days to Shekou. Time to settle for dark, tricolour lights on for the first time in months.........
Whilst Bear slept I had fun choosing a track between three chums, I opted to adjust to have two pass in front and one behind. MS Eagle was the nearest at nearly a mile off, at 14.3 knots it didn't take her long to disappear on her way to Jakarta.
I came on at two after an excellent and nearly solid four hour sleep to find lightning behind us. On the horizon in front loads of tiny lights. Another squall, this time over us had gusts to thirty four knots. I swear I heard Beez Yeeha as she cantered along for a few minutes at 8.2 knots. I wound in half the genoa in to slow us down as we had a waypoint to near at first light and not before. At first light I could see why. Hundreds of fishing platforms looking like baby oil rigs – some lit – some not.
All looking exactly alike, I could see people working.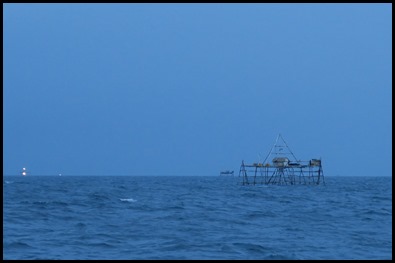 I went to bed at six leaving Bear to the remaining hundreds in rows and rows. I saw some occupied with nets down, some with nets up and one lying on its side....
Bear woke me at eight and I came up on deck to see Ketawai Island with all our new friends on the Sail Indonesia rally (they set off from Darwin), have a different set of anchorages to our Sail 2 Indonesia – except Bali where we all met.
We neared the anchorage to Mel and Ian on Indian Summer welcoming us with their fog horn and loads of waves from others – so touching. An immediate invitation to lunch, gala dinner tonight and a Bangka Island tour tomorrow. This rally has now a very special place in our hearts and thrilled to know loads of them are on the Sail Malaysia Rally too.
Our passage of just shy of ninety miles looks very busy with detail but if I move the chart across and take a picture quickly before the detail appears we can show the route clearer. Of twenty hours at sea just two at the beginning with the engine on and half an hour at the end. What a lovely change.
ALL IN ALL A CRACKING SAIL – HAVEN'T TYPED THOSE WORDS FOR A WHILE......
GREAT TO HAVE A GOOD AND DECENT SAIL
---