Bike Day

Beez Neez now Chy Whella
Big Bear and Pepe Millard
Wed 2 Oct 2013 22:57
Windarra gently persuaded us to hire bikes and take a tour of the island with them. We were promised flat roads and didn't have any excuse not to join in the fun. We left the quayside hire lady at nine, in time to meet the school bus. I do hope there are not going to be too, too many shots of my rather large stern...........No dear.
God of Maupiti seems a straightforward enough name for this church. Bear is in charge of pictures today as I have been allowed the day off. Couldn't make the skipper write the blog though, too right....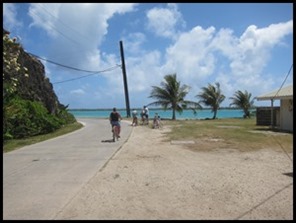 In no time we were at the top end of the island. Apparently you can walk the whole way round in three hours, so we made frequent photo stops and enjoyed the view.
A very poor attempt at a 'one careful owner' and a washing line ??? better have words with the photographer. Oh, now that's better. A nice view.
The real deal and a carefully owned scooter, I'll try that one out.
A stop for Sofia to present me with flowers, while mum, Rebecca, looks at a Tiki in his own house.
Blake and Sofia pose at our lunchtime beach stop. Freshly grilled tuna and rice. Time for a cooling swim in the incredibly shallow lagoon. From the beach here at Tereia, you can walk across to motu Auira.
A pretty house with a spectacular view.
We pushed the bikes up a short hill and were rewarded with a wonderful view toward the first anchorage, Windarra just visible.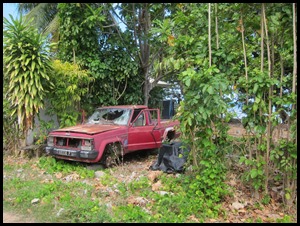 At the bottom end of the island we went off piste, definitely didn't like the bumps at this point, bit we found another beach and a potential for the one careful owner, but a bit young yet.
Then a couple of real gems.
These ladies came by, beer tins in hand, mid conversation, stopped to welcome us.
We stopped at one of several stand pipes. Karl dunks his head, watched by Sofia. Opposite a shack with a view.
Bear called finalist and I had to go back and have a close look. Mmmm OK, we'll see.
A funky coloured fridge overtook me at that point. These incredibly friendly islanders are definitely Ia orana (said Yo-rah-nah) not the Bonjour type. A favourite island that we will will always treasure.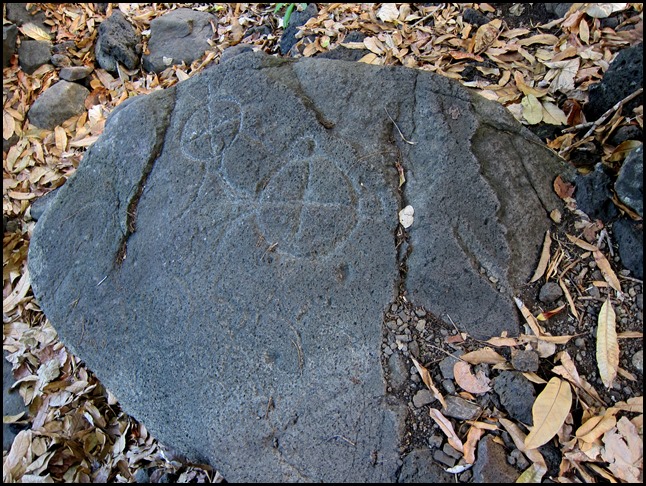 Having successfully completed our circumcycle of the island, we went once more to the top end where we had seen a sign for Petroglyphs. The man in the shop had reassured us they were not too far from the road and no climbing involved – marvelous. These famous carvings lay in the mostly dry, only island river called Haranai. Time to head back.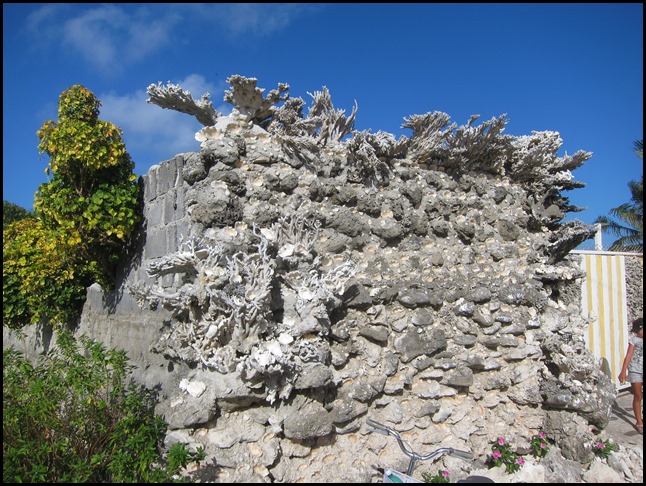 Our last stop was to see this amazing front wall, made from dead coral.
We returned the bikes and watched a game, would I do it again, Mmm, let's see how the stern is in the morning........
ALL IN ALL A PADDED SEAT NEXT TIME ???
GREAT WAY TO SEE THE ISLAND
---