Sanxenxo

Beez Neez
Skipper and First Mate Millard (Big Bear and Pepe)
Sat 9 Aug 2008 09:57
First job on leaving our berth in Portosin was to venture to the fuel pontoon, it was my ambition to do it backwards - something Beez Neez and I have discussed before !!!!!!!. We did it, albeit very slowly and with plenty of direction checks.
The skipper with Portosin club house behind, the restaurant is on the upper level, skipper made sure that the three men it took to operate the pump saw his mug. At sea log book time.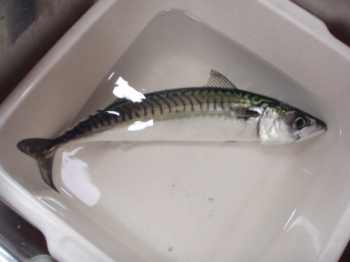 We were just about to leave the Ria when I said that I was hardly impacting on the local fishing industry. Bear very loyally said we were going too fast to troll, when this healthy boy took. He went straight in the washing-up bowl for a good bath and was served as a starter. How is that for fresh. Eat your heart out Birds Eye.
The waters in this area are very rocky even out in deep water. Our first sight of Porto Novo. The line just above the beach is a huge camp site. Then we saw the size of the hotels. Having moored up on the waiting pontoon we were told it was full and so made our way to Sanxenxo ( pronounced Sanshensho ).
The berthing master pointed to a very small space, I swallowed hard, by this time he had asked "how long", paced out the hole and told us to wait five. He then moved the two boats either side a couple of feet and I duly got into the space. There was eight inches each end, so we think he has small paces and short legs. It was a long walk to the office from where we were, so off skipper went. Some time later he came back to tell me "another festival, but no fireworks". The Rodman company had just released a new superyacht to the Muse series and I did think that the man on the bongos was trying for a "thromy" after two hours playing at o five thirty. All was quiet at o eight. Silent in fact. The Bee, the marina and Bear on the way to the beach.
We don't feel there are many "Saga Holiday rooms" at this resort. The beach gets packed by about seventeen thirty. Something I have never seen before are the hordes on the march. Old, young, gangs, families, pregnant and posers all march up and down the beach at the waters edge, they don't stop for biff bats, football or frizbies. They get to the wall, turn sharply and head back. They leave the beach by eight to go get ready for the night. The noise is awesome, I heard "begging for mercy" by Duffy several times overnight. Again all is silent by half seven in the morning. We feel very sorry for anyone who booked a late "cheapy" unless they are young enough to handle it, or you don't mind getting two lots of fours hours sleep during the quiet times, would suit shift workers. I had run out of Nurofen so popped into the Farmacia, no worries here about suicide, you can buy as many as you want, I bought a box of forty. I had queued behind a policeman and was amazed at the weaponry around his waist, he looked the sort to ask questions later - MUCH later. We are pleased we only booked for two nights and are off today the ninth of August to Bayona our last Spanish port of call.
---