Q Dock to N23

Beez Neez
Skipper and First Mate Millard (Big Bear and Pepe)
Tue 17 Dec 2013 23:57
Quarantine Dock to N23, Our Buoy, Opua, New Zealand
We woke this morning to a heavy dew that almost instantly vanished in the early morning sunshine. Gary from Immigration knocked at twenty to eight. He handed over 'boarding cards' and a biosecurity form for us to fill in and said he would be back in a while. I was filling in the forms and quietly Bear set about frying bacon, wow. He did egg on toast with baked beans, baked tomatoes on the side and served it in the cockpit. Very impressed was I.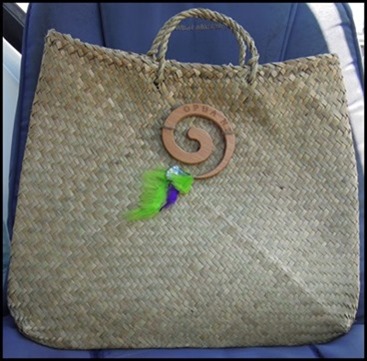 Gary came back just as we were finishing and handed in his well worn and trusty case. He handed me a bag and I put it down thinking it was his. He alluded to it having information we may find useful, as he filled in his ledger and in the end he had to spell out the fact that the bag was indeed a gift. I had assumed it held some of his paperwork and he must have thought me very unenthusiastic. How lovely, by the time the penny dropped into my tired brain, a present, my new bag, I couldn't stop hugging it to me, now utterly thrilled. In the bottom I found a tiny bottle of Jamaican rum, back it went, the skipper objected, Gary laughed as I handed Bear a tiny packet of Jelly Babies attached to one of the business flyers.
The rules have just changed, in a short time our Passports had been stamped for six months and Beez was clerked in for two years – the four hundred and twentieth boat this year. About six hundred boats log in to New Zealand, the majority here in Opua, maybe ten to twenty more will clear in before the end of the year. We can come and go as we please, each time we leave and come back, another six months, no hassle and no fees at all. Bear was handed a form to show to all businesses so we don't have to pay tax on parts and spares for Beez, including our mooring dues. What a refreshing change.
Next came the very jolly MAF man, who was a joy to work with. We lost our few remaining tomatoes, a couple of ready chicken meals, a packet of bacon and a cucumber. Bear had throw our hoover bag into the big black sack which was sealed and off our smiling visitor went. We were the last of the four yachts to log in and everything was done and dusted by ten to ten. I rang the marina ladies and Marlene gave me the co-ordinates for N23. We were in no rush and decided to wait for a boat to fill with water, then we would do the same on the jetty opposite. After an hour we gave up and no sooner than we fired Beez up, we had a call to say there was a boat on N23 and could we wait for fifteen minutes, we said we would leave it half an hour and settled to look through our various pamphlets.
We bimbled to the end of the massive Q Dock, Beez looked quite tiny on her own.
A very unique first for us – a floating toilet.............
Looking out we saw a peculiar little island with trees, must spuddle one day for a closer look.
Back to the girl and the radio chirped, happy, cheerful voice, "all clear on N23."
We finally left the Q dock, in the hot sun and with exact lat and long co-ordinates, headed over to the mooring field. N23 is to be our base for the next month, (Beez is at the bottom of the first chart). Many on board chores to do and preparation for Beez being lifted out on to the hard. First things first – go and see the good ladies in the Marina Office, find Rent a Dent to hire a car for a couple of days Christmas shopping in Auckland (three hours away), find our way around the various chandlers and suppliers, talk to the sail launderers repairers, buy some bread in the General Store, then find the Yacht Club for a well earned cold one. All after Baby Beez is launched.
Looking back toward the marina, the sky looked distinctly ominous.
The view to our left, water quite green................
...............herds of 'you know what I think about these chaps' sail by – not even a paddle for me then.
Thunder and lightning – even darker.
We can see the rain behind the marina.
All of a sudden the marina disappears.......................
...............................and the heavens open.
The rain tracks around the bay and us.
Behind us and out come the two buckets, soon to be half full.
One minute we had been watching a bit of rain behind our neighbour, the next she'd all but vanished. Really dark at half past two. Nothing for it but to go and watch a couple of films. The rain fell heavily, thunder and lightning circling the bay. Bear radioed the ladies in the office at four and suggested tomorrow morning, "Oh, come in the rain, it'll be fun – see you in the morning then, no problem at all."
At six it was if nothing had happened and later a lovely sunset.
ALL IN ALL A MIXED BAG OF ALLSORTS
CHILLED OUT – LITERALLY
---