Watching the Start of the Cape to Rio

Beez Neez now Chy Whella
Big Bear and Pepe Millard
Sat 4 Jan 2020 23:57
Watching the Cape to Rio Race Start with Jane and Craig
We were asked to move Beez from the end of our pontoon as they are going to begin to load the huge catamarans on to transport ships and there would be no room to wiggle them through such a small gap between us and the girls parked opposite. Allen (Nauti Nauti) and Patrick (Ostrika) were ready to take our lines and the girl is now next-door-but-one to her ol' mate Slow Flight and backing on to Nauti Nauti. That done, I started some serious housework whilst Bear went off with some of the boys to the chandlery. Showered and ready to meet Jane and Craig (FOB) by the big wheel.
Then we came to a grinding halt at the bascule bridge, open to let day trippers out. Twiddling our thumbs for fifteen minutes we heard the bridge controller say at one o'clock that he was about to close. Yay.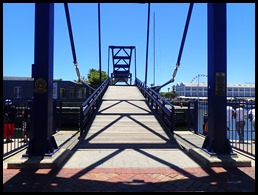 But......, more boats kept coming so we stood for another twenty minutes – now very late. Eventually the bridge began to close but that seemed to take another ten minutes. Jane and Craig met us by the 'Husband Day Care' bar for a quick sherbet.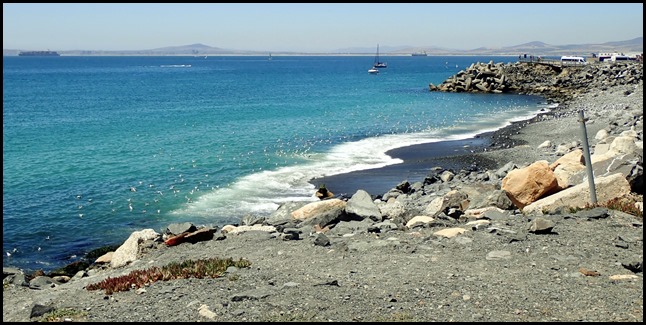 Then we bimbled seaward. A glorious day to begin the race with hundreds of seabirds there to watch the action.
The starters were all away to our left completing a circuit of the bay beyond.
Circuit done, the competitors and many supporters began to head our way. The race began in 1971 and the organisers thought about fifteen boats would enter - fifty-eight competed. The event is held roughly every three years, covers about 3,600 miles and is the longest race to be held in the southern hemisphere. 36 boats entered for this year ranging from 32 feet and up. The record is held by a boat called Zephyrus IV, at a tad over seventy-five feet she completed the race in an impressive 12 days, 16 hours and 49 minutes. This record has stood since the year 2000.
A whole gang of noddy terns (right) joined in the fun all watched by the helicopter above.
Nice to see chums in the pictures.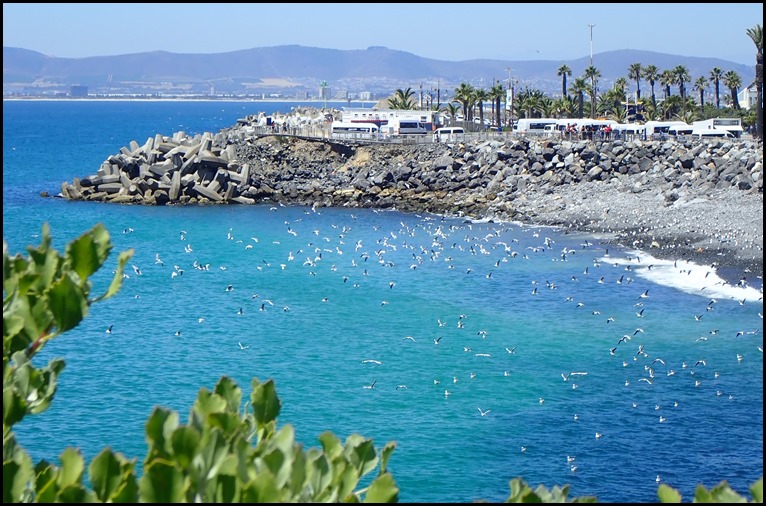 A seal had the gulls take flight as did we for a late lunch.
We settled in an Italian, Bear and Craig went fishy. I thought my cheeseburger was event, especially as it arrived with parsley about the place (very swiftly blown away)........but then Jane's arrived........
OH MY. Burger with everything but tackled with grace.....
Like a twit I forgot to ask our waiter if he would mind taking our picture so I had to 'borrow' a picture from FB for Jane and Craig.
We said our 'farewells' and we bimbled for a while stopping to watch a talented group of young dancers. The boys did many synchro high kicks and the girls jingled with anklets made from can tops.
I found another information board. The Pierhead in 1993.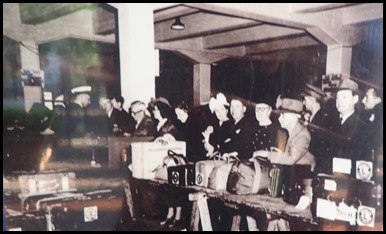 The V+A Hotel and Alfred Mall, formerly the North Quay Warehouse, was built in 1904. Originally a coal store, it was converted into a warehouse and customs baggage store for Union Castle. After a severe fire in 1939 the third storey was demolished and the building was reroofed without it. The building is steel-framed with massive I-beams and columns riveted rather than welded. The beams can still be viewed inside. The building rests on wooden piles, but its condition was good enough for a third floor to be added.
The architects were MLH Architects & Planners, with Dennis Fabian, Bernard and Hackner Architcts as design advisors to the V+A Hotel. The brief was extended to include the adjoining rope store, which was converted into a restaurant and retail space.
The V+A Hotel was the first hotel at the V+A Waterfront and was renovated and rebuilt in 2005 to include a third storey again. The hotel was named in honour of the Queen of England and her son, who visited the Cape in 1870 when Prince Alfred officially opened the Breakwater Basin. A variety of retail and restaurant offerings can be found inside the Alfred Mall today.
We got home to find not a wisp of cloud on Table Mountain.
ALL IN ALL A SMASHING DAY
WONDERFUL CATCH-UP
---