Wasai Lodge

Beez Neez
Skipper and First Mate Millard (Big Bear and Pepe)
Sun 5 Sep 2010 20:05
The Wasai Lodge, Puerto Maldonado
Our merry group arrived time to celebrate
To get this far had been leaving our boats, flights from Trinidad, Miami, Bogota, Lima to Puerto Maldonado and a bus from the airport. After three days of travelling we all settled overlooking the river. We are at twelve degrees, thirty five minutes, thirty three South. Sixty nine degrees, ten minutes, twenty eight West waiting quietly for our rooms to be ready. We are lucky with the temperature, the last four days have been at forty degrees, we have it much cooler and very pleasant.
We spent a happy hour watching the river traffic come and go to the opposite bank
It must be seen as lucky that Anne had a visit from a bird who dropped a present
A bit of exploring
En route to our rooms
Anne waving from her balcony, we are next door to the left. A stunning natural lodge
The lodge transfer craft and the small pool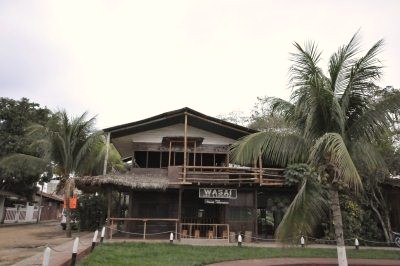 The lodge from the road and the dining room where we had our own private bird show, visit from monkey and resident sloth and baby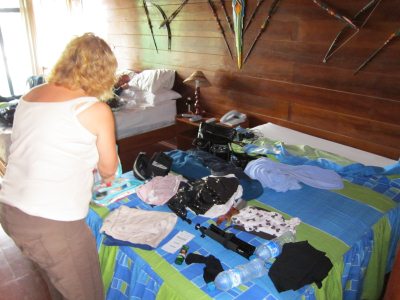 Time to unstow and stow yet again for our onward adventure into the Amazon Jungle.
ALL IN ALL A WONDERFUL START TO OUR AT-VENTURE
.
---