HK Digs Bimble

Beez Neez now Chy Whella
Big Bear and Pepe Millard
Tue 1 Jan 2019 23:57
A Bimble Around The Grand Hyatt, Hong Kong
Our room was on the 12th floor of the Grand Hyatt Tower. Reception was on the 30th floor and has this gorgeous orchid. We booked this Christmas present – a two-night stay – on the first of January 2018 whilst laying in bed on New Year's morning, Ho Chi Minh City. Here we are a year later and hoping next New Year will be in Cape Town. There are five hundred and forty-two rooms, eleven restaurants including cafes and a chocolatier and the hotel has been described in an article in the New York Times Travel as a "world famous prestige property", we chose it for being in the top three for firework watching and were not disappointed.
Up a half-flight of stairs to the tower dining room (topmost floor) for breakfast and what choices – fruit, yoghurt, cereal, snacks, every kind of bread, hot and local dishes. Back any time for coffee or tea and back anytime after five for high tea with drinks. What a spread. I indulged in lots of smoked salmon and Comte cheese as a treat. Bear sampled everything.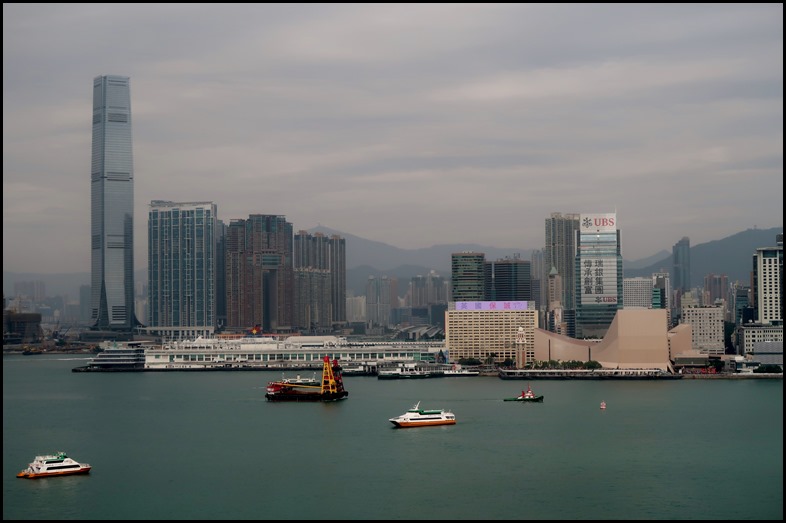 The view from any one of the huge smoked glass windows over to Kowloon with the ICC on the left. The International Commerce Centre or ICC was completed in 2010, part of Union Square above Kowloon Station. On completion it was the world's fourth tallest building (now the eleventh) but remains the tallest in Hong Kong. The Ritz Carlton hotel occupies floors 102-118 in this one hundred and eight storey building ???? Due to four sounding like death and the feng shui boys get their knickers in a bunch all too often, tetraphobia demanded no 4, 14, 24 etc. The world's highest swimming pool can be found on the '118th' floor and the hotel boasts an observatory on the hundredth floor.
Each area around the lifts has a pretty plant and something of interest.
After our late breakfast we decided on a gentle bimble of our digs. Down on the hotel reception floor we passed a headless bust and a flower shop.
The main lobby where smooth jazz filters down from the cafe above.
On the 11th floor we passed the ten million US dollar spa and headed through the planters to the pool.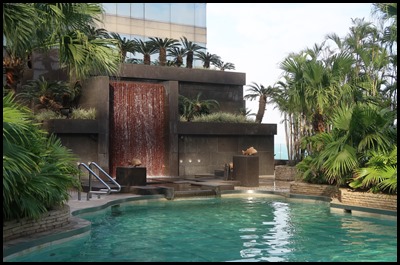 There were a few hardy nutters in the pool but as I felt cold with my clothes on there was little chance of me getting wet.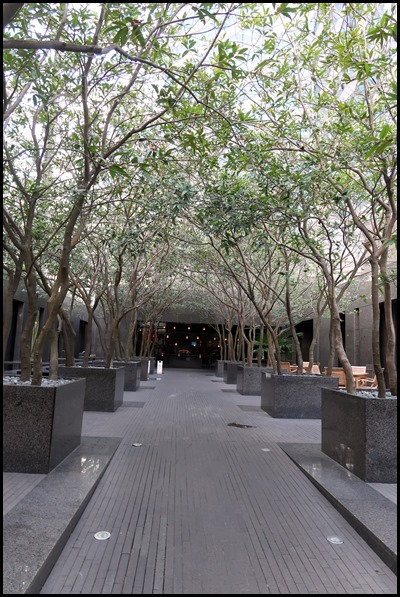 We set off again through the lovely planters to the Christmas display...................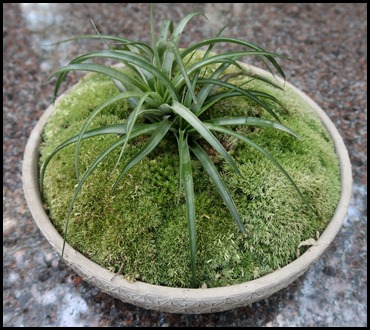 ...........enjoying the well-tended table plants as we went.
Quite sufficient a bimble we returned to our room to simply watch the river traffic go by.
ALL IN ALL A REAL TREAT
LUXURY
---