To Pokhara

Beez Neez now Chy Whella
Big Bear and Pepe Millard
Tue 3 Apr 2018 22:57
To Pokhara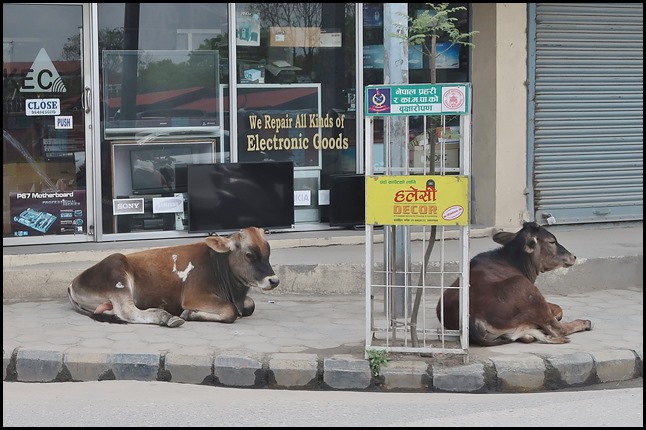 A taxi came to pick us up from our digs at one o'clock to take us to the Domestic Airport. The local cows were completely unfazed at such goings-on. At ten to two we had passed through security, had a brief pat-down and headed to the Buddha Airlines check in desk – the very same as when we did our Sagarmatha flight. The chap asked us if we fancied boarding an earlier flight and hey, why not. Another pat-down as we went through another baggage x-ray, then we emerged in the departure 'lounge'. Hundreds of fed up and testy looking folk. As soon as we looked at the information board all became clear. Our three o'clock flight was not to be updated until three fifty, the 12:35 we had been assigned to had been grounded due to weather at Pokhara. Three other flights to various destinations were also held with later flights unknown. We managed to find a couple of seats not too far from each other and at 14:30 we were called to board one of two buses. There we sat (without having gone anywhere) for twenty minutes. One Australian lady with three small children asked us why we were sitting in a bus. I suggested it was to free up some space in departures. She commented on how everyone looked unconcerned, we could reassure her that this was fairly normal. We then were driven the short distance to the plane and sat for another ten as the passengers disembarked.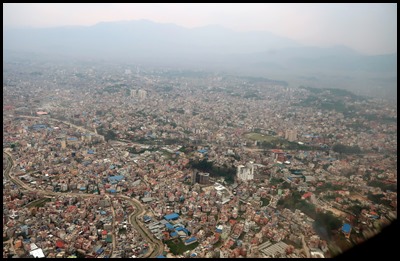 Up in the air at ten past three, we were in actual fact only ten minutes late in leaving, unlike the gnashing of teeth folk who had been expecting to leave some two hours forty ago. Kathmandu left behind, we were soon in fog with not much to see. The chirpy captain came on to tell us we would have a turbulent time coming down through the clouds at the other end.
Coming down was not too bad and we soon got our first look at Pokhara.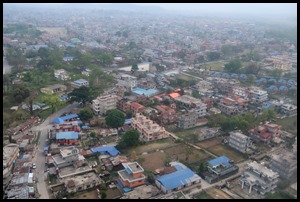 A sizeable city (in fact, second largest in Nepal – population just over 414,000).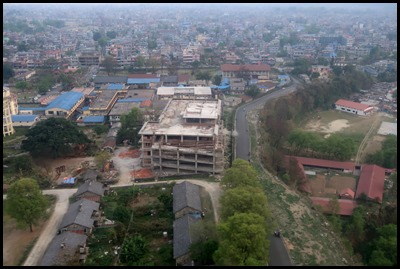 Final approach over a river.
Twenty five minute flight time (thank you Google Maps).
Disembarking at Pokhara Airport.
We waited (Bear posing) for a few minutes for the pushy and frustrated to collect their luggage and then collected ours. Outside, we saw our name and Ishwor, our host, warmly welcomed us, shook our hands and tucked us in a taxi as he had come on his motorbike.
Out of the airport, our first look at the town.
Uninterested residents fast becoming the norm.
We stopped and Ishwor put shopping in the back as we watched a man proudly carrying his new bed and as we set off we had to negotiate yet another of the uninterested......
This chap found a good itching post.
A shopping centre before the edge of town, a posh build as we began our ascent out into the hillside.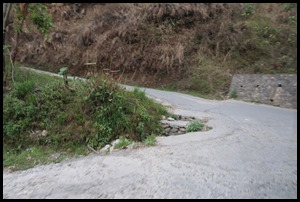 .......and climb we did, first on concrete then on the rough.
The the very rough and still we climbed.
The views became more rugged.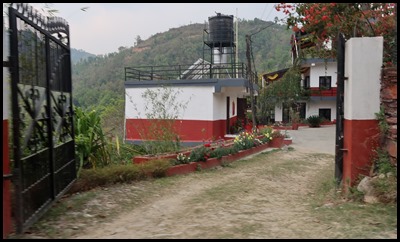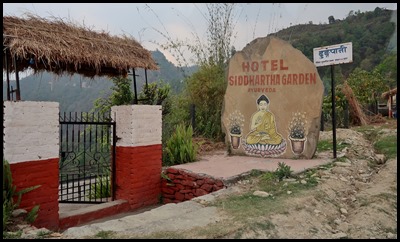 Half an hour later, we passed the gate to our digs – heaven only knows why we couldn't have got out there as our room was the far end of the first little building on the left. No, we had to formally enter through the front gate which meant steep steps down to a terrace of the multi-layered garden, down a steeper set to the dining hall and back toward the first gate.........Formality at it's best............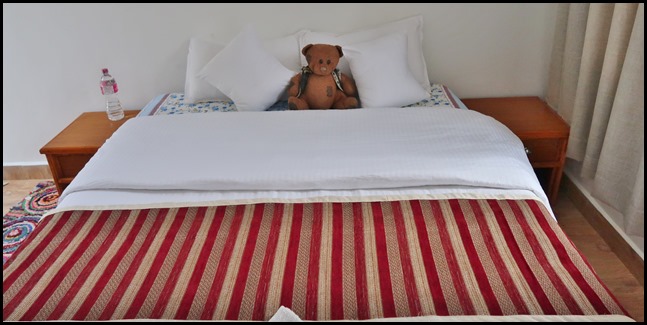 After settling an exhausted Beds........
.......and a quick look at the view ahead from our window......
...........and to our right over some of the garden.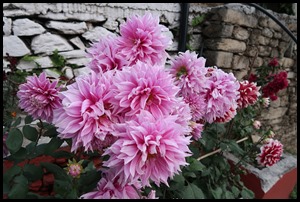 .....we passed some blooms for an exceptional cuppa in the dining hall and watched a Chieftain-sized bee enjoying a tree beside us.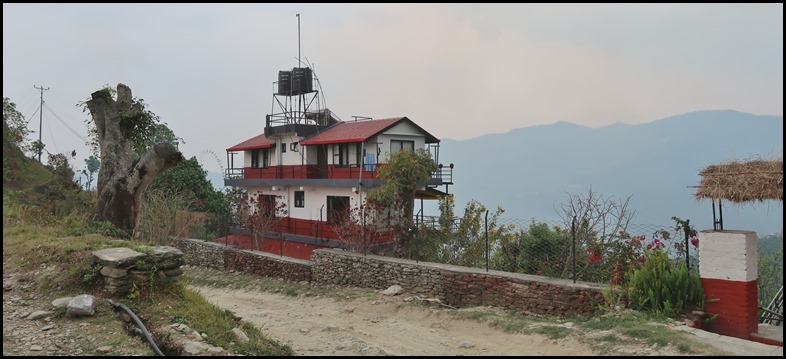 We went out in the fading afternoon light. Sadly, the view over Pokhara city, the lake and the Annapurnas was blocked by haze but we knew after a good storm things would clear. Looking back toward our digs, we would, in two sleeps time, move to the room (top right) on the fourth floor. Looking forward to that but for now happy in our nest at the back of the property.
ALL IN ALL GETTING READY FOR THE VIEWS
GOOD TO FLY IN THE MOUNTAINS AND SEE MORE COUNTRYSIDE
---