Narita to Beez

Beez Neez now Chy Whella
Big Bear and Pepe Millard
Wed 15 Nov 2017 23:57
Narita, Japan back to Beez Neez, Malaysia
After a good breakfast we wait for the eight o'clock shuttle to the airport. Our white-gloved coach driver slathers on lip balm and sighs as he hits the commuter traffic. Five minutes later and some kind traffic lights we thank him and bimble in to Terminal 2 of Narita Airport. Check in takes fifteen minutes as only half the counters are open, security is painless as is Immigration. I'm ambling along when a lady asks if we would like a lift to Gate 93 and off we go – another first – on a truck that only manages five miles an hour. The lovely lady tells us she does this all day, wishes she could go a little faster but enjoys meeting people. A great job save for the machine having to constantly bleep to get walkers to stand clear. We pass the time chatting and take in the superb facilities. A soft play for children, plenty of seating with internet and charging up points.
Swanky cafe with no queue.
Private seating booths (I wasn't quick enough to take the bed version), mattresses and beyond air beds.
Ages later, I ask our new friend to stay put so I can take a picture. Delightful smiles.......
........she then asked to take our picture.
A very dull, grey, wet day as we reverse off. We trundle beside a tiger and soon in the air at 11:00 – twenty minutes late.......plenty of apologies from our captain. Our stewardesses do all the announcements in English, Malaysian and Japanese so it takes a bit of time to get safety etc. out of the way but soon we have a glass of wine and a packet of peanuts in hand.
A bit of scenery for a while until we went above the clouds, then nothing but fluffy white stuff and a few bumpy bits.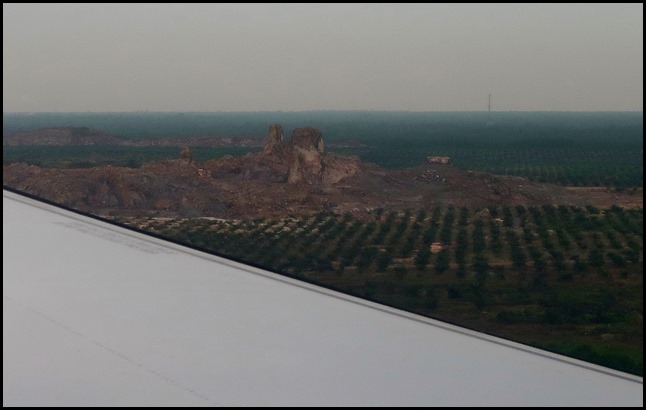 Great food, good films and we can see the ground of Malaysia. Sadly, we know we will not make the six o'clock bus as we don't settle until twenty past five and we have the long slog through Immigration to do yet. That takes an hour but my lovely chap lets me choose where he will put his stamp (things are getting VERY tight in my Passport. I've actually selotaped my only two pages together to preserve them for my Chinese Visa. I have one full page left for Vietnam and hope to wing it for Myanmar, please may I get a nice person.......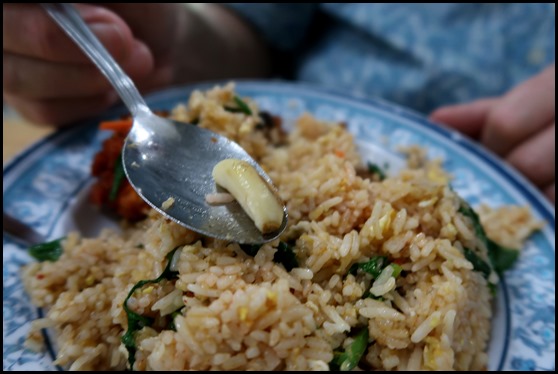 Once through, cases collected, cases x-rayed, we head to the bus station. We find our lady who really kindly changes our time to nine o'clock, so lucky as we thought this bus would be full and we would have to wait for the one a.m.. So at twenty past seven we settle for a few games of tri-ominoes and supper. Bear finds a huge piece of garlic – welcome back to Malaysia and I have to send my fiery hot dish back, it made my eyes water and my lips felt like I had scraped them on the tarmac. Very sweetly the eatery replaced my food calling it "pale white with no good stuff". Relief and delicious. We visit the loo which comes as a shock after Japan but nothing will ever compare to theirs. The bus is a brothel of disease and snorers but we leave on the dot of nine. Sammi and his wife (brought for company and just as well as we pull in half an hour late) greet us cheerfully and we arrive by Beez at twenty past two in the morning. A motorbike pulls up and a young man introduces himself as being a son of Ruz (one of the fantastic ladies in the office), Inge is working here for a month on break from his business studies course. He hands our cases up to the stern platform as if they are feather light – oh to be young and strong. All well on board. Beds is in bed before you can say a word Bear sorts the electrickery and I poke around for essentials. Time for sleep at four thirty reflecting back on a great trip.
Today we flew 3,364 miles.
108 miles by bus. Door to door in eighteen and a half hours.
ALL IN ALL A COLOURFUL DAY
A VERY EASY TRAVEL DAY
---