Customs and Kindness

Beez Neez
Skipper and First Mate Millard (Big Bear and Pepe)
Sun 17 Apr 2011 20:25
Customs, Kindness and an Adventure in America
Duke looking fine this morning
Up we jumped at seven thirty, the dock master told us "No fuel. Bent pipe." He allotted us a slip, told us not to rush and the Berk behind us (clanking all night) was given time to nip off to the airport to log in. Berk was back in half an hour whining about the $100 taxi fare. Justice served.
We on the other hand, moved Beez, settled her and wandered over to Clinton and Raina on Karma. Happy Birthday Rai. Clinton very kindly took us to the airport where we had a wonderful experience with Customs and Immigration. Our last log in was in St Croix, we both had a roughish ride with Mr L. He lectured us on NOT exceeding our six months visiting rights by "Keep nipping in and out of the country and claiming our boat needing major engine work to extend her one year". We assured him our maximum time was ten months to explore the east coast as Cuba, then Panama is already in planning. (As a result of this encounter we have formally written our plan to Australia, emailing a Cuban Marina to have the date in our inbox, showing intent to move on). "Well it won't be up to me, you'll have to see each and every Homeland Security Officer as they occur". We left that office with a bit of a bad taste in the mouth and some worries.
This time Mr G was a sweetheart, welcoming us, very helpful and in no way suspicious that we could have been on a mission to stay in America forever. A pleasant and fast encounter. Clinton took us back to the marina, said he was off to spend time with his wife on her special day and promptly gave us his car keys, a map he had asked Rai to produce of where we needed to go and a cheery wave. Well here we are in the USA with people we only met last night handing over their car. What utter kindness and a welcome to this land we will NEVER forget. THANK YOU.
I say car with tongue in cheek, it was a sexy beast. Bear enjoyed driving after the tiny hire cars we are usually trotting about in. Some number plates from the car park.
Over the rails, past water features in this vast landscape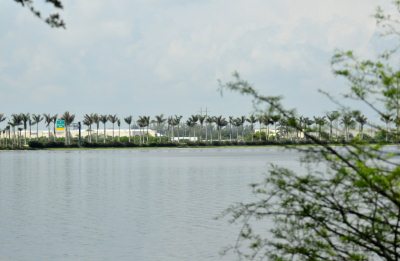 We found the tree lined Australian Highway and took it to find a shop for a SIM card to use here in the States, then on to West Marine Chandlery
We got our SIM in T Mobile and our local number is 561 290 3984. We found very helpful people in West Marine - seeking new hot water tank, still washing VERY quickly in cold water...... After all the successes of the morning we went to celebrate in a real 1950's style Diner next to where we had parked.
These boys were also customers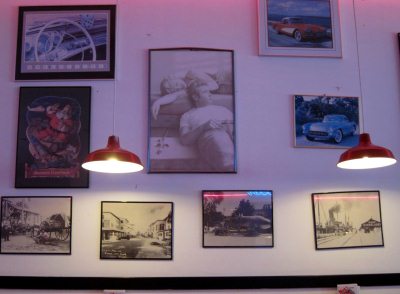 Nick's. Lovely ladies serving, four of us together had birthdays on the 26th, 27th, 28th (me) and 29th of June - a bunch of ol' crabs together. Great music, great ambience, refills of lemonade and Bear got roast beef on this particular Sunday, what more could we want than to get back to the girl for a few games and a restful afternoon.
ALL IN ALL THE BEST WELCOME WE COULD WISH FOR
.
.
---