To Mount Yasur

Beez Neez
Skipper and First Mate Millard (Big Bear and Pepe)
Sat 31 Oct 2015 23:27
Our Drive to Mount Yasur
Stanley organised our trip to the village of Etapu – hopefully for us to have our National Geographic moment and on to Mount Yasur to feel and hear the power of an active volcano – a perfectly ordinary Saturday for the crew of Beez Neez. Promptly at one thirty, Sam turned up at the yacht club in his pick-up truck. I loaded into the back and Bear settled in the front with gentle reggae music and the very knowledgeable and friendly Sam. Very soon it became clear to me that our thoughtful driver would slow over the very bumpy bits and only speed up on the few flat bits.
Soon we were leaving behind the cyclone battered but well kept village of Ireupuow.
Then I saw the first of many banyans, this one shading a cow enjoying a munch. Tanna is famous for these impressive trees and boasts the biggest in the world. We climbed then and I got a quick look at Beez, just in the picture on the left.
After an hour of scenery along the one track road we turned right into the track that would take us to the neatly kept village where we would meet Chief Jack and his fellow dancers. As we turned there was a bit of a traffic jam as two cars passed each other.
After our exquisite village experience we headed toward Mount Yasur. Everyone we passed laughed and waved, especially when they saw I had a painted face. One young lad tried to stay 'cool' but after I had taken his picture he collapsed into fits of giggles. We saw Unicef tents as well as houses that had survived Cyclone Pam, many with hasty repairs to the roof – so pleased to see all the evidence of the relief effort.
One lady whooped and we both did a wiggle dance. She had been out collecting plants which she put on her head so it looked like a purple-green wig.
A football pitch was not what we expected to see......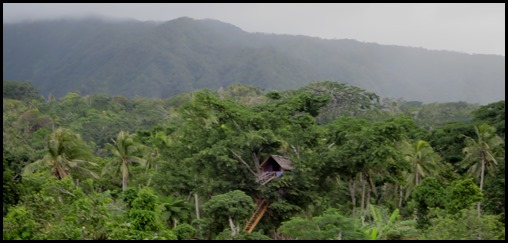 At the turning to the track up to the volcano, I could look back and see the range that has Mount Maureun at 1047 metres [seen here shrouded in mist with the threat of rain] and further to the right Mount Tukosmera at 1084 metres. A very smart tree house dully called Mount Yasur Veiw which is available to rent.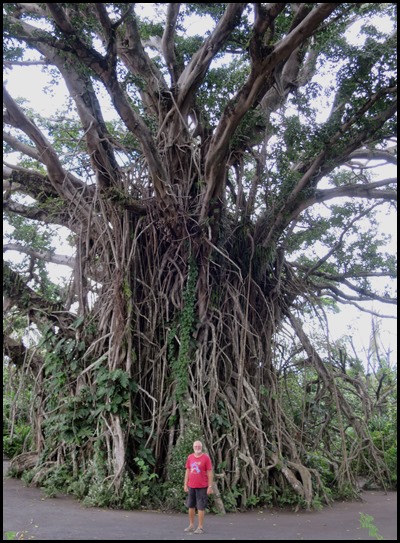 We stopped at a 'kiosk' where Sam paid our entry fee and whilst he was gone I got an opportunity to ask Bear to pose next to this very big banyan. We pulled away and I took another picture to get a bit more of this giant in veiw. The building seen to the right of the tree when finished, will house the ticket office, interpretation centre, grockle shop and toilets.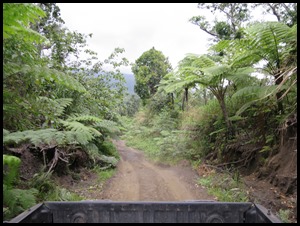 The next bit of the journey was up through the tree ferns, flattish to begin with it soon got very steep.
Behind and ahead, I did have to hold on tight for this bit.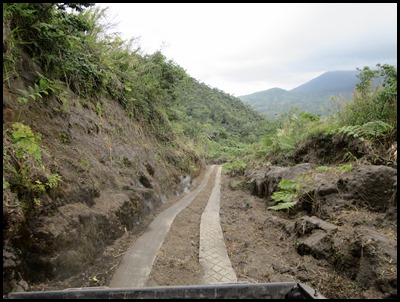 Perhaps the most remarkable road we have been on...........
...........then the verge began to smoke.
Nearly there, the vegetation suddenly stopped in an almost straight line.
Mount Yasur [the steep track up to the crater just visible toward the right] and one little building – have to ask Sam what it is.
The cinder valley complete with lone toilet as Sam told us.
Looking left toward the mountain range, we felt the scenery to have taken on a moon-like vista.
ALL IN ALL A GREAT WAY TO SEE SOME THE ISLAND
INTERESTING AND LUMPY JOURNEY
---