To Galapagos Vision

Beez Neez now Chy Whella
Big Bear and Pepe Millard
Sun 21 Apr 2013 22:37
To the Catamaran Galapagos Vision
On Beez Neez we are permitted to visit four islands in the Galapagos - San Cristobal, Floreana, Santa Cruz and Isabela. There is no way to see any of the others unless you take day trips and the only way to see some of the smaller islands is to join a four, five or seven day cruise – we knew we would never be able to afford to do that, so nothing for it but to accept the amazing things we could see and forget the rest. We had always promised ourselves to take day trips within the islands we could visit on Beez, and as birthday and Christmas presents to each other to take day trips to North Seymour (for the dancing blue-foots) and Bartholomew Island (perhaps see a hawk, get Master and Commander views and photographs, see pinnacle rock, snorkel and maybe see a penguin and enjoy the jewel in the Galapagos crown.
We trotted around some of the tour offices, plumped for the one with a sweet lady who was very helpful and booked our North Seymour trip. A couple of days later we then returned to the same office to book for Bartholomew and a day trip on Santa Cruz. By chance the same lady was on duty, who said she had two places available - leaving the next day, all inclusive, seven nights – eight days. Snap decision time. She would take into account what we had already paid and for not much more than the total for our three trips, she would hold the places for two hours. Off we raced to see our agent Johnny.
We had never, ever left Beez at anchor overnight before................. would she be safe, would Johnny be able to keep an eye on her, was it OK to leave for a week............. So many questions rattled around before we got hold of Johnny. The fact the itinerary included two stops on Espanola with the chance to see a wavy albatross, our only opportunity to see this beautiful bird so I melted. A stop at Post Office Bay on Floreana and Santa Fe - Bear was in too.
Johnny assured us it was safe, he would let the Port Captain know and "have a good time". After racing to the bank, money in hand we rushed back to the tour office, went home to pack and be ready by ten the next morning. Later we spoke to the skipper on the Australian boat Alooa anchored next to Beez - "Sure I'll keep an eye on her".
Ohhhhhhhhhhhhhhhh.
We went to sleep very excited indeed. We knew the Galapagos Vision was an elderly catamaran in the low budget range. Five crew, two guides and ten passengers all fitted into forty seven feet – sounds snug...... We took no pre-conceived expectations with us as we got in the water taxi, I couldn't look back at Beez though. We arrived at the office as requested at ten. Directed by our now familiar lady to go and have a drink for three quarters of an hour. Back again, Patty the boat owner and only woman in the islands to hold not one but two tour permits met us, rang her driver, who arrived shortly to take us to the top of the island, (by the airport) to join our trip as Vision was parked in the Northern Channel. Joining us for the journey was the Captain who was on holiday but needed to check the repair work ongoing on the very defunct port engine.
We left the town and were soon speeding up and over the highlands where we saw a little rain, our first since Roatan at Christmas. Not long after we began our descent, we could see the channel (as a pale streak top left of the picture). Skipper and driver yapped constantly and the three quarter of an hour journey went by in a flash and ended at the main jetty.
The skipper called for the panga to collect us and as we could only see one catamaran, there was Vision.
We watched tourist boats arrive, next was our ride and settling aboard. Our cabin is on the starboard side, (with the little hatch open) one back from the crew single (accessed from on deck).
Bear chatting to Chino (our panga driver, first mate and all round hard-working nice guy). I soon find a perch.
Anchored next to us is a fire damaged 'One Careful Owner'
Bear rooming in. Douglas our lovely temporary captain. Of course I took my own glass, pillow and Beds, naturally. On board for the next couple of days are two young ladies from Switzerland - Eli and Tabea, two young men from Germany – Tony and Max and a lady from Argentina – Liliana. Joining soon after us were Lucas and Daniel both from Germany. Everyone gathered at the bell for a delicious lunch, then it was time for the afternoon activity – a gentle bimble around the red mangrove to our left.
This area is known as Caleta Tortuga Negra.
As we neared we could see just how low the water is - for a rainy season it has been incredibly dry. A sea turtle glides in the shade.
Another sea turtle, a couple of spotted rays and eagle rays pass to say hello.
Eagles look like baby brown manta rays.

Herds of them swim up to us and gently brush past our extended hands.
Chino took us down blind alleys, to incredibly shallow areas where he tilted the outboard and across large expanses, herds still visiting.
A great blue heron signals our passing back to Vision.
Back on board it's time to leave the anchorage and head out of the channel
Douglas has to take us through a very narrow, marked channel.
The usual suspects on the rocks and ..........................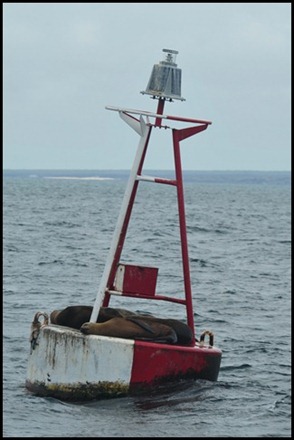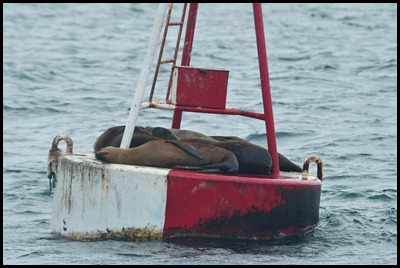 They make good use of the marker buoys.
The captains (as Ricardo looks on, he is the Spanish guide on board, but he works hard in his spare time to learn English) confer on things navigation (Bad Elf on his IPad the topic of conversation). Overnight we are on passage to Bartholomew Island.
ALL IN ALL A GREAT START
---