North Devon

Beez Neez now Chy Whella
Big Bear and Pepe Millard
Sun 13 Apr 2014 22:57
North Devon Visit
We bade farewell to Joe and Kaiser in Chorley, very windswept and chilled to the bone. The whispering, coughing and sneezing continues from me, hurrah – a silent passenger, steady. See warning signs.
Have you ever seen anyone use a packet of Extra Strong Hacks like a cattle prod.
Bear has.
Caution Bear. Caution.
Well I can hardly go anywhere as I'm driving.
Less of the lip
OUCH.
The fairly silent journey was pleasant enough and we arrived to a massive welcome and a wonderful lasagne. No UK visit is the same without a trip to Hatherleigh. Sunday, after a gentle start saw us being whisked to a nearby golf club for Sunday lunch.
Granddad Roger was something of a Pied Piper as he got the little ones making daisy chains.
Spring has sprung if this daffodil is anything to go by.
Kate and the boys. Roger grabbed the camera and said he would take "the best picture ever" of Mark and me – I have to say not bad at all.
Home for an Easter egg hunt in the back garden and a long sit in the afternoon sun.
Bear covering all bases.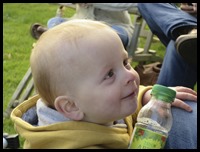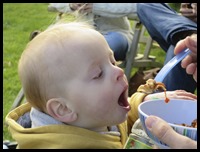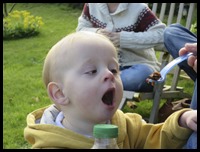 We seem to watch Seth ever ready for food........
........chocolate too.
Seth looking cool.
Balloon water bombs then time to go in and get messy.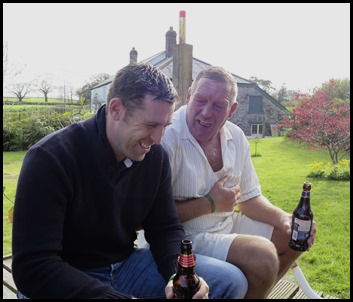 It began like this and ended like that ?????
ALL IN ALL SHORT AND SWEET
---