Beijing to Xi'an

Beez Neez now Chy Whella
Big Bear and Pepe Millard
Mon 14 May 2018 22:57
Beijing to Xi'an
After our Summer Palace bimble it was time to head to Domestic Departures for our flight to Xi'an. We can only describe security as thorough with Bear's backsack having three rides on the xray conveyor belt, the final time with his pencil case full of various wires coming out and riding unaccompanied. Once through that palaver, we had made sure our hand luggage was below five kilograms (or it would get bounced to hold luggage), no one weighed it..............grrrr, Bear settled for a tuna and cheese bake. Sitting opposite a girl with a melted cheese croissant dangled between two chopsticks and eaten like a lolly had me exploring the pristine toilets and surrounding shops, top quality fakes of just about everything. We settled in departures, gate 36 and was pleased when a big group of men boarded a flight to Nanjing taking their loud games with them.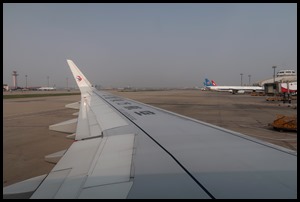 Settled on board, we found a huge amount of legroom, Bear was thrilled to see his old friend – the Japanese toilet seat for sale in the on-line booklet – Oh how he misses them and talk of them often.....I was a little sad to be overlooking the wing to get any decent scenery shots.
It was fun watching next door being unloaded and reloaded but as we pulled back the haze seemed to thicken.
Chuffed to see two chaps wave us off, a red chap covered in cute pandas and as soon as a girl landed we got ready for take off.
The haze gave us no views of Beijing but through the cloud we could just make out some mountain peaks. The TV monitors showed a map and told us our journey was just shy of two hours, one thousand one hundred kilometres and we were heading west.
No one in the seat behind me meant I could lean the camera from the next window, mountainous scenery.
A hard bank to the left and we saw miles of flatland and nothingness before the mountains popped up.
Hundreds and hundreds of wind turbines came next.
Early supper came, fish with vegetables and rice, accompanied by a couple of rice crackers, sweetcorn and cucumber, outside the clouds had fine rain falling from their wispy bottoms. You never describe me as having a wispy bottom. No, dear, yours shouts too much.................
Coming in toward Xi'an (she-an) we saw millions of acres of patchwork farmland. We would later find out we were looking at winter wheat due for harvest at the beginning of June.
We actually land in Xianyang, the neighbouring city to Xi'an (the airport built here to preserve the air quality etc of Xi'an). We saw a huge stadium.
Coming in to land we passed over perhaps the biggest apartment building site we have ever seen. Locals laughingly tell you that the national bird is the crane...... Central government own all the land, people can buy leasehold (seventy years) and rents can skyrocket on a whim. Locals can buy on producing their documents at a police station, everyone else has to prove paying local taxes for three years.
Once on the ground, we taxied for about fifteen minutes, three-sixty around the airport building, Bear wasn't entirely sure our chap knew where he was going but eventually we came to a stop, aided by a young man waggling his ping-pong bat enthusiastically.
Sunset as we disembarked and began the very long long walk to baggage reclaim. I did not expect the first shop I saw in the terminal – Caribbean Coffee.
Candy met us and we were soon in the back of Mr Chan's mini bus on the one hour trip to Xi'an. As soon as we neared the city we saw high rises. There are three million cars to a population of 9.4 million, in a bid to reduce the numbers on the roads and encourage more people to use the electric buses, there is a twenty per cent restriction each day, Monday to Friday. This is achieved by number plates, today, Monday people with a 1 and 6, tomorrow a 2 and 7 in their registration. Easily skirted by two car families. Buses and taxis are called BYD meaning Build Your Dreams.....
We went under the Inner City Wall, both original (90%) and restored (towers and gates) that surrounds with a length of seven miles, we hope to bike ride it before we leave, Oh do we....... Moving right along.....There is a main gate north, south, east and west but each side has four entrances in total, The Outer City covers 10,000 square kilometres and the Inner City is a total of 12 square kilometres.
After sterile Beijing barren of advertising, it was nice to see bright lights and we immediately liked the city.
Opening the door of our digs, we assed a well-appointed shower room and two for two, yay, a comfy bed and soft pillows. Soon settled after what felt like quite a long day. Night, night all.....
ALL IN ALL AMAZING, HUGE SCENERY
COMFORTABLE AND EFFICIENT
---