Island Tour 1

Beez Neez
Skipper and First Mate Millard (Big Bear and Pepe)
Mon 4 Jun 2012 22:01
Exploring Isla Mujeres – Day One
Time to get intrepid
Bear fancied getting a 'hire car' for twenty four hours and doing the island. Novel vehicle, Chevrolet in yellow, errrrrrrrr no
Off we went
First stop was all the way south
Isla Mujeres
– (Island of Women – pronounced Is-la Moo-hare-es) is one of the

ten municipalities

of the

Mexican

state of

Quintana Roo

. The island is
about eight miles northeast of

Cancún

. It is the easternmost municipal seat in Mexico. The island is some 4.3 miles long and 2,130 feet wide. In the 2010 census, the town had a population of 12,642 inhabitants.
Transportation: Transportation on Isla Mujeres consists primarily of taxis or golf carts and mopeds or scooters. As of 2005 there were 121 taxis, 500 golf carts and 1500 mopeds or scooters, (we have seen a family of five on a scooter – one little one standing at the front, dad driving and two little ones on the seat in front of mum). There's also a bus service that runs from the Downtown to the different neighborhoods, called colonias in Spanish (where most of locals live).
Ruins at South Point
Mayan History: In Pre-Columbian times the island was sacred to the Mayan goddess of childbirth and medicine, Ix Chel. When the Spanish arrived in the 16th century they named it "Isla Mujeres" because of the many images of goddesses. The first information available about Isla Mujeres is from the period between 564 - 1516 AC, when it was part of the Mayan province called Ekab. There were 4 Mayan provinces in what is today the State of Quintana Roo. The Maya also exploited the salt that the island produced in the "salinas" (small interior lagoons). The salt was used not only for the conservation of food and medicine but also has a generally accepted currency for commerce of goods along the whole Mayan region.
The Mayan goddess Ixchel had a temple in what is today the Hacienda Mundaca (Mundaca's Plantation House). A small Mayan temple was once located on the southern tip of the island. However in 1988 Hurricane Gilbert caused extensive damage, leaving most of the foundation but only a very small portion of the temple. Since the 1970's, along with close-by Cancún, there has been substantial tourist development in Isla Mujeres.
Island connectivity to the mainland: Ferry boats run every half an hour to Cancun, from the island and Puerto Juárez (where we went to get our ten year Cruising Permit – three pounds twenty five each way) or Gran Puerto on the mainland. The island is popular with day trippers, the evenings are quiet after the tour groups leave.
We stopped at the Turtle Farm (own blog)
Eateries: There are numerous places to eat fresh seafood cooked with local and traditional recipes, also many other types of food are available at restaurants on the island such as: black angus steaks, Mexican, Yucatecan, Italian, Caribbean, Mediterranean, Hebrew, French, Thai, Cuban, Mayan and there is even a Sushi Bar. Hotel prices vary from cheap to very expensive at the resorts on the southwest end such as Hotel Villa Rolandi, and Playa Norte Ixchel Beach Hotel.
On the east is the Caribbean Sea with a strong surf and rocky coast, and on the west the skyline of Cancún is seen across the clear waters. On the north end is El Centro (downtown), whose central axis, Hidalgo Street, is the main dining and entertainment area. Also located on the north end is a famous beach called Playa Norte, which has recovered quickly since Hurricane Wilma hit the area in 2005. the island of Isla Mujeres is located close to one of many coral reefs such as the one located in Garrafon Park, which is an area popular for its snorkeling and scuba diving. The Cancun underwater museum, created by English sculptor Jason deCaires Taylor, is located off the western coast of Isla Mujeres.
The island's relative proximity to Cuba has made it one of the favorite stepping stones of Cubans trying to reach the United States in recent years.
We saw some smashing tile work, a lovely little Church and a variety of back yard industry
We saw art, a fancy hotel foyer and art studios
Berger homes and new builds.
You get some Big Ones here you know
This is a home made island home. The chap – a local artist and author begins with empty water bottles and builds from there. Fabulous. He has had a few homes before that have been destroyed in storms but just starts over.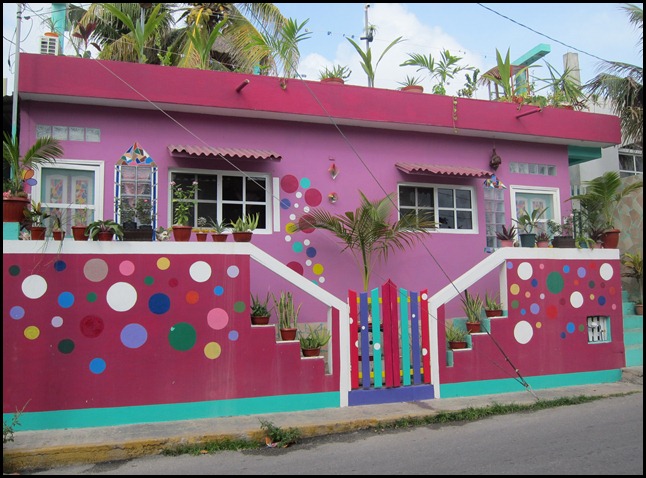 The prettiest little house we saw today
At the end of the day we stopped at the (by island standards) massive supermarket. I tried to get a picture as we passed it this afternoon but Bear was in Emerson Fittipaldi mode. We bimbled around and found the bakery. Can they make cakes here. We gathered a tray and a pair of tongs and dribbled at all that was on offer. Two fat croissants each, a fancy cake each and two small fish pasties for bear's lunch tomorrow came in at just under two pounds. Bear needed a shower gel but he snarled at the Donkey's Milk and sniffed for the most manly one. I did my best impression of a chicken laying an egg, "maybe tomorrow." When we parked we saw a man catching Zzeee's, he was still there when we came out. He was OK because we could hear him snoring. Time to go home.
ALL IN ALL FUN IN A GOLF CART
.
---