Boxing Day

Beez Neez
Skipper and First Mate Millard (Big Bear and Pepe)
Sun 26 Dec 2010 23:34
Boxing Day at Coco's
Rick and Lucy (Flying Cloud) Maria and Maurice (Cattiva) and ourselves went to Coco's to test the all-inclusive, traditional lunch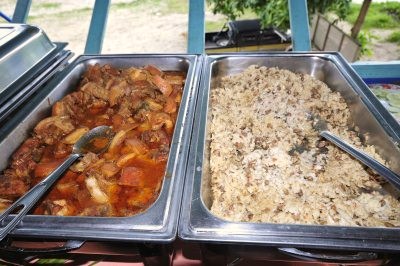 The eat all you can eat began at one. The salad bar included a choice of cucumber, tomato, coleslaw, corn, pumpkin and of course macaroni pie (macaroni cheese cooked 'til nearly dry and sliced. I thought it odd the first time I saw it as in the UK we always have it 'wet' and fairly pale, this has a wonderful crust - soooo good). Then the hot choices were Caribbean rice and savoury pork.
Also BBQ chicken, spicy mutton that had been slow pot-roasted until so tender (I always thought it would be tough so for my first try this was a delight) and curried fish (huge meaty chunks), washed down with a shandy. Bear has got over the gouty toe, the dodgy ankle, the swollen knee, only to put his back out, so when he walks his hips are over his feet but his shoulders have turned right a bit. So when the others went off for a walk to find a beach bar and carry on into the evening, we sadly returned to Beez for Bear to lay down - any excuse.
I'm not a wreck, honest
Have you ever seen a dinghy rope used in a threatening fashion
Bear has
Cringe Bear, Cringe.

All the ferries lined up resting on this Bank Holiday
Admiralty Bay now resting after the 'washing machine' it has been for a couple of days, we moved more into the middle after six foot swells 'rocked' us a little too effectively
The Girl, looking handsome
ALL IN ALL A FEAST FOR A TENNER
I TELL YOU I'M NOT A WRECK
BUT YOU ARE DOING A BLOODY GOOD IMPRESSION OF ONE
.
---