Mooloolaba Beach

Beez Neez
Skipper and First Mate Millard (Big Bear and Pepe)
Tue 3 May 2016 22:57
Mooloolaba Beach
We spent the morning with chores and as the sun was bright and the beach was near we packed a towel, a juice, the beach blanket that had long thought to be forgotten about and off we went. Bear posed, behind him the beach begins just behind the tree line. Swopped to the other side of the tree, behind him is the marina. You can anchor along the Mooloolaba River but there is a limit of forty eight hours.
A few steps and there we were on a huge beach.
Off went Bear.
I combined my love of wave watching and Bear. Smashing.
A frolicking Bear.
A bobbing Bear.
Bear rode the waves - getting bigger as the tide changed. I went in for a play, the water was surprisingly warm.
Peggy defended her find on the beach........
.........from all comers.
We sat and watched the world go by. Many folk walk and jog the beach, nice to see such a range of all ages. Kayakers and canoeists, even long distance swimmers. This is not a busy weekend, so not that many people, but still there are lifeguard stations dotted along the sand. We watched a dad teaching his four year old to body board, a tough little nut who time and time again came up, shook his head and got stuck in – we think he will sleep well tonight.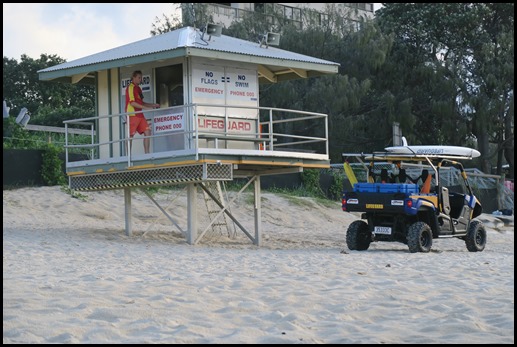 Lifeguard home time for us too, shower, supper time and series two of Broadchurch.
ALL IN ALL A JOYFUL AFTERNOON
LOVELY TO BE IN THE WARM SEA
---