To Titusville

Beez Neez
Skipper and First Mate Millard (Big Bear and Pepe)
Fri 22 Apr 2011 22:25
To Titusville, Brevard County, Florida, USA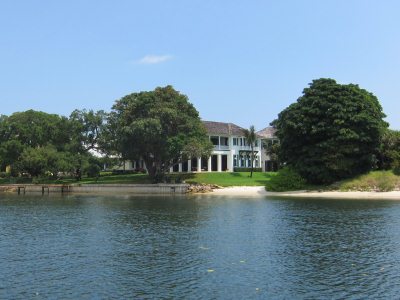 This blog is all about some of the properties we have seen so far on the ICW
After our forty mile journey and high excitement on buses last night, we put in a short sixteen mile hop today to Titusville. That's the really nice thing about being on the ICW - if you get tired you can pull in more of less wherever you fancy so long as you don't cause an obstruction to the main channel and there are loads of anchorages and marinas marked in Skipper Bob.
A particular favourite
We have maps. However, we see life from a navigating eye, not a tourist eye, how thrilled we were that our last bridge was called Nasa Causeway Bridge
Well he wasn't impressed and neither were they
Over to our right by six miles was the Kennedy Space Centre, Cape Canaveral, complete with Space Shuttle (left) ready to launch in six days - wow
Just past the bridge was Titusville Municipal Marina, a good place to stay for a few days; so Bear can order and have delivered our new hot water tank. I'm now squeaking a bit about cold showers. We needed to fuel up and as there were a couple of powerboats in front of us, we circled for a while. Time for us to watch the many osprey all round us fishing and to train watch. Just behind the marina is the main line. A train came through sounding the classic American horn that you hear on movies (not films - I'm getting with the lingo). It took over three minutes for this gargantuan transporter to pass. Each truck had the ability to hold two containers stacked on top on one another. I counted one hundred and seventy eight trucks, this train single deck. That done the radio chirped and in we went to a very welcoming marina, three nights for the price of two. Bargain. Immediately on the fuel dock, we looked up to see skipper and daughter from Windreda, we first mat in Trinidad, then again in Carriacou. Settled on to B73 by a skipper and dock master we wanted to go off to a West Marine - apparently just across the road. The boat next to us had owner Scott on board, doing a bit of tinkering until visiting time, his wife was in hospital in Jacksonville with a bad chest infection. After chatting for a little while Scott told us that West Marine had gone about six months ago favouring the big store in Cocoa City. "Oh we've just come from there". "Ace is our big local hardware store, they will help as they have a big marine department, but it's about five miles, here have my car keys". Wow. Twice in a week we have been allowed to borrow a car, WOW.
Another first - to see an osprey sitting atop a mast, whatever next
ALL IN ALL WHAT A WELCOME
---