New Years Eve

Beez Neez
Skipper and First Mate Millard (Big Bear and Pepe)
Thu 31 Dec 2009 23:59
New Years Eve on Anegada
Well here we are in celebratory mood
We spent the morning slacking out, the afternoon opening Christmas pressies over a bottle of Champagne. Then it was shower and get ready to party. We arrived at the Reef Hotel and immediately felt welcome. Time for a painkiller cocktail before being shown to our table, where the three of us sat in a line overlooking the bay. The American lady who was our hostess for the early part of the evening liked us, so instead of the promised bottle of champagne - we had two, a great start to the evening. Our starter was a blue marlin dip, crackers, a green salad, warm rolls served with real butter. Bear ordered a bottle of red for Jump and himself, that left me to be brave over a bottle of rose.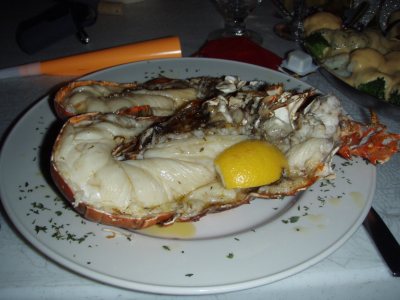 Our mains: Whole baked lobster, cauliflower cheese, broccoli, carrot, baked plantain, a baked potato with sour cream dressing, melted butter for the lobster and more champagne also appeared. When the unhurried meal was over (Jump and I left half our lobster - wrapped in a doggy bag for tomorrow with new potatoes and salad), we were moved nearer the beach for the band to set up.
The fizz slipped down a treat and as the midnight hour approached Bear took on the showman persona of Elton John
Happy New Year. A couple had to leave as their youngsters hit the tiredness wall - giving us a half a bottle of champagne. A waiter gave us a full bottle and some more red appeared. Bear grew so attached to his new hat that when it blew off as we tied up Baby Beez at nearly 02:00, he stripped to go and rescue it. What a start to 2010.
ALL IN ALL WE WISH YOU ALL A VERY HAPPY NEW YEAR AND MAY 2010 BRING YOU DEEP JOY
---