Hanuman

Beez Neez
Skipper and First Mate Millard (Big Bear and Pepe)
Tue 20 Oct 2009 22:53
After leaving the Temple on the Sea, we passed a Mosque, a big school and I found a pretty blue flower when we stopped.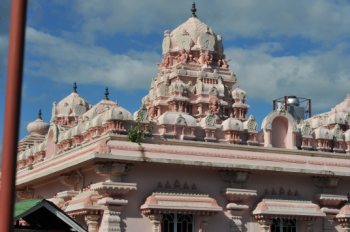 42% of Trinidad and Tobago's one and a half million population traces its ancestry to India. Indo-Trinidadians make up the countries largest ethnic group. They are primarily descendants from indentured workers from India brought when slavery was abolished and there was an acute lack of workers when the freed African slaves refused to continue working on the sugar plantations. The Indian Community is divided roughly half and half between those who maintained their original Hindu or Muslim religions and those who have taken to Christianity or have no religious affiliation.

Through cultural preservation groups, Trinidadians of Indian descent maintain at least some of their customs and rites.

In the early 1980's Sri Swami Ganapati Sachchidananda from the Avadhoota Datta Peetham in
Mysore
,
India,
established a Dattatreya temple in central
Trinidad
just east of
Waterloo
.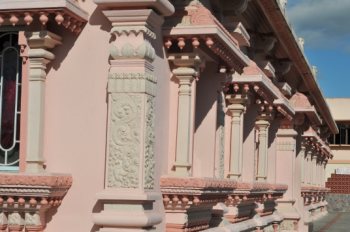 By 1986 a temple was formed and throughout the 1990's the pink and white temple continued to develop into a south Indian style mandir and a compound for the Hindu community was expanded.
In 2001, Swamiji had the idea that a special murti should be erected. It took two years and the contributions of many devotees, but by the 9th of Ju
ne 2003
Kumbhabishekam was performed for a magnificent, 85 foot tall murti of Hanuman or Hanumanji.
Located in Carapichaima, this 85 foot murti is reputed to be the largest of its kind outside of India. The murti stands on the grounds of the Dattatreya Yoga Centre and Mandir and attracts devotees offering gifts and performing the ritual of
pradakshina
(circumambulation while uttering the sacred Hanuman mantra).
The dog sleeping, Bear with his hat on the the faithful camel patiently waiting.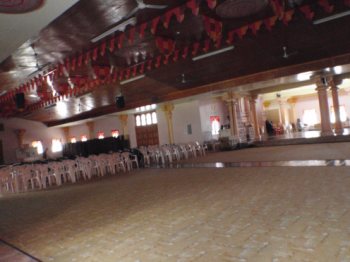 The temple is vast inside and Hanuman is impressive outside
Jessie teased me as I could not remember Hanuman's name and had thought our trip to the Temple on the Sea was our last stop. "No, No where is the tallest thingy outside India" "I'll have to look it up for you".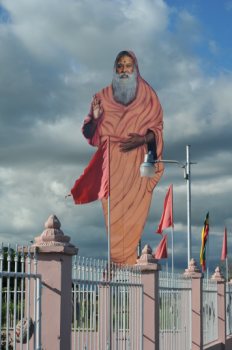 The wise teacher, Bear still with the camel and the rear view of Hanuman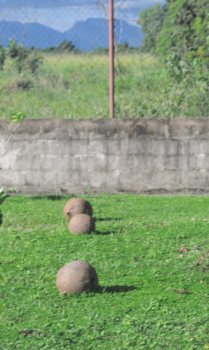 In the grounds stands a Canon Ball Tree. The balls hang from bangs that stick out from the trunk. Jessie held the flower of the tree and didn't want anyone to handle the balls as they have a terrible smell.
ALL IN ALL A HOLY SITE THAT FEELS A SOMEWHAT MAGICAL PLACE
---