Final Planning

Beez Neez now Chy Whella
Big Bear and Pepe Millard
Sat 8 Aug 2015 22:57
Final Planning Meeting
Friday. Up this morning to Bear producing a modest egg event, bit I did have to look the other way as he chomped through the escapee bits.....last of the eggs and planning how to use up everything we need to before our land trip.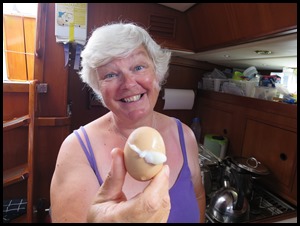 Later on Scott-Free, Maj showed a well presented hard-boiled egg event. Top marks though to the lettuce, roots and all. First time this particular Downstairs Admiral has posed in such a way. This vessel, like ours is eating anything that won't holiday very well. Our final planning meeting went in an orderly and brisk fashion, last stay in Lautoka and hire car from Suva back to the ferry organised, then home for cleaning chores and extend the packing list.
Getting Egg-citing.
That wasn't one of mine but I'll let out the thunderous groan I can hear.......
This evening we met up with Scott-Free, Sheer Tenacity and State of Mind, all crews now moaning about the constant high winds and getting soaked every time we go anywhere in our dinghies. Along with a new friend, the boys did what boys do best – be in charge of barbecues and beers. Friend, Rod, Rod, Bear and Steve did it so very professionally.
Saturday. Water making, turning things off and putting Beez Neez to bed.
ALL IN ALL OUR EXIT FROM THE WIND IS ON
VERY EXCITING INDEED
Did I hear you say eggciting. Growl.....
---