Outback Memorial

Beez Neez
Skipper and First Mate Millard (Big Bear and Pepe)
Sat 8 Nov 2014 23:47
The Sheepyard War Memorial and Museum
Bear standing in front of Lake Bear-d on the sign. The lake. Memorial rock.
On the way out of 'town', we saw the flagpoles meaning we had arrived at the War Memorial. In the blazing heat, we walked past the rustic sign and not-expected-at-all, Lake Beard. To the right was a Memorial rock, we quite like these, having seen our first in the Queenstown Cemetery on South Island.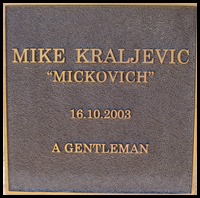 A random selection, especially lie the bottom row.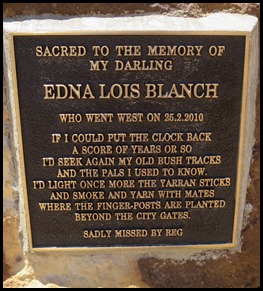 Edna was on her own toward the Lake.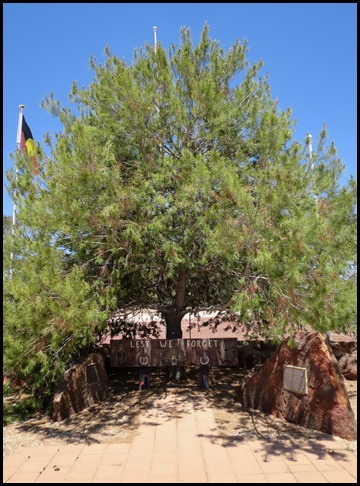 Away to our left was a rather lovely setting.
The Sheepyard and Community War Memorial consists of a series of ironstone boulders in a semi-circular design which commemorates Australian servicemen and women who have fought in conflicts in which Australia has been involved. In the centre of the memorial is a beefwood sign and there are a number of plaques on individual boulders which commemorate conflicts including a plaque dedicated to Aboriginal Servicemen in all wars. There are also plaques dedicated to individuals. The area is paved with mullock gravel and a tiled footpath and is bounded by spaced wooden hurdles. There are three flagpoles behind the memorial.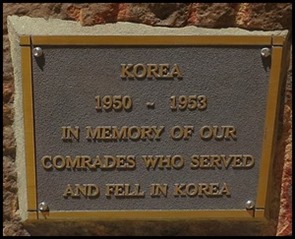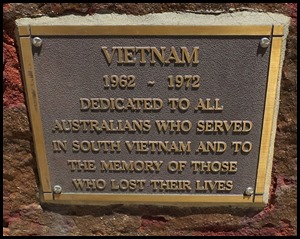 So wonderful to see all the campaigns honoured
.
Just as we were about to head off a 'ute' roared up and parked up a pile of grit, two dogs got out, one to swim, one to run at high speed around the lake. The owner disembarked and introduced himself as Mac. The man from the picture in the pub. It had clearly been a 'thirst making morning'. He did say he was the key holder to the museum and we could have a look around.
Just inside the door was perhaps the most incredible picture we have ever seen when it comes to camaraderie. Bearing in mind the light on the glass was awful, Mac helped shade for me to get a close up.
The soldier standing has actually left this life permanently. His mates insisted he be in the picture and quite simply 'propped him up' by supporting him and the chap behind holds two handfuls of shirt.
Lovely to see pictures of some of the veterans and the medals they so richly deserved. Just two examples, Sam on the left, Macs grandpa Mac on the right.
Army records belonging to Mac.
We looked around the rest of the museum
.
Gallipoli – just look at the list of Anzacs who were awarded the V.C. at the bottom.
A unique look at pictures of the Japanese surrender.
Unusual and interesting bits to look at.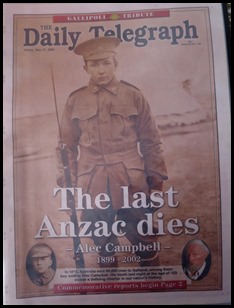 The Coo-ee Call. Then it was time for us to leave.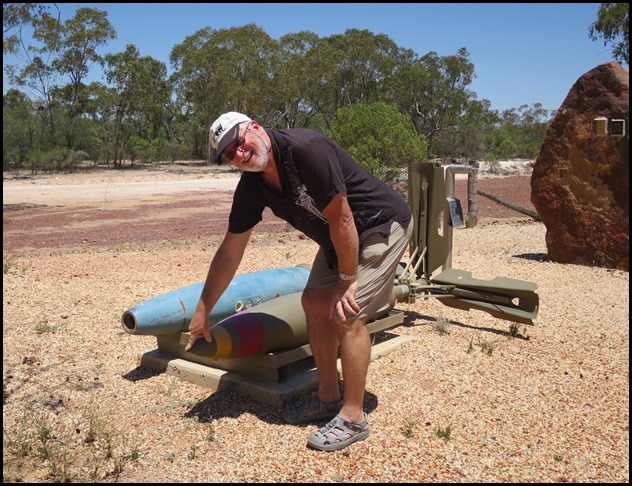 ALL IN ALL IN A JEWEL IN A ROUGH OUTBACK
A SURPRISE FIND
---