To Portlands Roads

Beez Neez
Skipper and First Mate Millard (Big Bear and Pepe)
Sat 9 Jul 2016 22:57
To Portland Roads
Today journey began at eleven o'clock and would take us up through the shipping lane, wiggling through the islands and reefs, overnight to Portland Roads on the mainland. Four of our seven journeys to check out on Thursday Island on the 14th.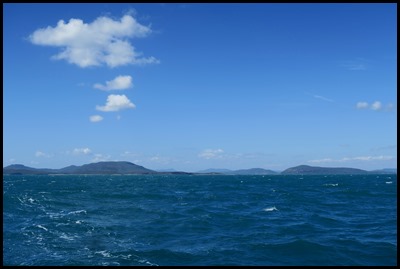 Trinity resting until she works all night. The wind was in the twenties and within minutes the engine was off and the genoa was sufficient to have Beez soon leaving Stanley Island behind.
It looks as if we are in the middle of the ocean, in fact we are in no more than twenty metres of water. Still, it is a bit of a surprise to suddenly see a beach and a few trees. The working girls love to trawl the shallows around the reefs.

A working girl near another 'beach'.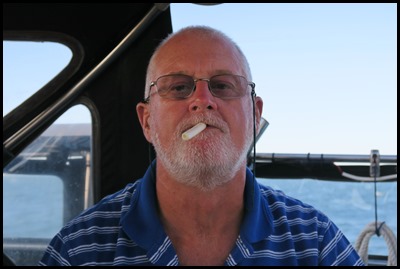 The skipper awake for a change, cool with one of his vanilla biscuits.
Sunset was dark and fast.
My 18:00 to 22:00 began with gusts to twenty eight knots, quite big seas and nine working girls in a line. I had one merchant ship. My 02:00 to 06:00 was dogged with working girls and their big lights, zig-zagging nearby, crossing in front and taking a long time to go by. Listening to the Birth of Modern Civilisation as Socrates and Plato were going at it - I turned off Prof Noble and settled to my tin of tuna. As I love it drenched in vinegar it was rather funny when a cold dollop fell on my chest. Glasses on there was another dollop on my right lens that had been dangling at the time...... Note to self – put tuna in a bowl big enough to deal with big waves.
At a quarter past nine I sailed by Resolution Island.
I got up just as we pulled around the final bend. All I had to do was find three metres for Bear to drop the anchor – and choose our view.
ALL IN ALL A BUSY TIME THAT SPED BY
A GOOD STEP FORWARD, HEADING NORTH
---