Hoi An Bits

Beez Neez
Skipper and First Mate Millard (Big Bear and Pepe)
Sat 6 Jan 2018 23:57
Hoi An Bits
Along the High Street, a typical frontage. We bought a couple of pears "40,000 lovely lady", I asked her to add two apples "100,000 together". No. "OK, 80,000". Why oh why, are they always on the fiddle. It does get so very wearing but as soon as they are called on it, they immediately want to make amends. "Where you go now Missy". To buy some trouser cotton. Said 'fiddler' wanted very much to make it up to us, "follow me to material shop, velly velly goo prices, lucky prices".
We walked for ages behind 'fiddler' who went at near gallop and thought she had lost at us at one point. We now wish she had. Passing fruit and veg stalls, we saw a lady asleep.
Had to stop for a closer look. Soundo.
We turned left at a fishmonger, found ourselves in a massive building and shoved into an area full of material. Nothing more than a tailor shop....... When I asked for cotton or crepe in black to make some trousers, out came the pattern books. Cheapest material ten dollars a yard.......not pleased we left.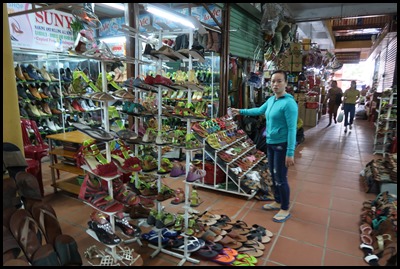 We found ourselves in the made to measure shoe hall. "Come looky, look, velly, velly goo prices", did they all go to the same school of selling.... We went in for a laugh. I picked up a court shoe and immediately two ladies rummaged out ten albums of shoes, sandals, boots, plimsolls, trainers, even flip flops. How much for a court shoe. "I do leder in and leder our for you" How much. "Many colour you choose from". How much, as I now begin to back out of the shop. "Oo begin at thirty nine dollar, maybe fifty nine if real nice". Thank you. "We make overnight". Thank you.
We get through the plastics building and the hat building without hassle, wend our way back through the food market and back to Old Town.
A few earrings on the corner.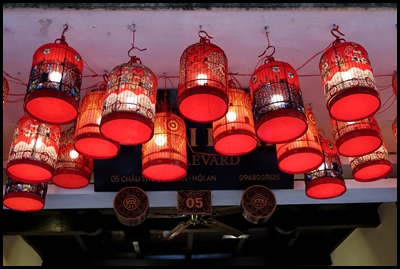 Lanterns outside an ice cream shop.
Happy to be back on the High Street.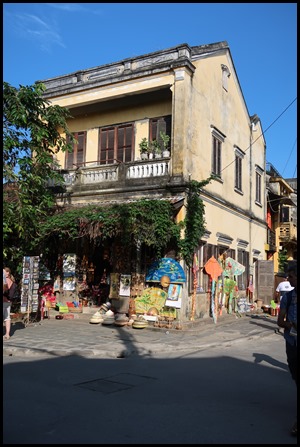 Shop, house and Bear missed this morning with his shaver. Must trim that down later on............
Beyond the covered bridge and old traders house, our last stops of the day, we pass yet another ancient frontage.
We just love looking at the shops along the way.
We bimbled toward this boat on a side road, needed to know more.
Loved this story we found next to this boat: Gosyuin-Sen. The Friendship between Nagasaki and Hoi An.
It may come as a surprise but Nagasaki's historical relationship with Vietnam has a very long history, going back as far as the 16th century. I would like to tell a story of how the bond between Nagasaki and Vietnam.
Sotaro Araki (died 1636) was a samurai from Kumamoto who moved to Nagasaki in 1588, taking up residence in a mansion in Akunoura. This was around the time when many Japantowns were established as the Japanese merchants travelled to the region.
Sotaro is said to have gone to countries such as the Philippines, Vietnam, Thailand and Cambodia on goshuin-sen (shogun-authorised trading vessel) and made a fortune. When he visited Giao Chi, near Hue in central Vietnam, he married Tome Wakaku, a daughter of Nguyen Phuc Nguyen, who was a king of Annam. He brought Wakaku back to Nagasaki and set up a trading house in Motoshikkui-machi.
He is probably the first person to have married a daughter of a king of another country and to have brought her back. She was well liked by the people of Nagasaki who called her Anio-san. Today, you can see the splendour of her wedding through a dance performance offered to the deities at Nagasaki's famous Okunchi Festival.
Each district of the city, take turns, to present performances for Okunchi Festival once every seven years. Their performances, Kokkodesho, in which a mikoshi (portable shrine) is tossed up towards the sky with four children on it, as well as the Dragon Dance and the presentation of Kasaboko (literally means umbrella-lance) which kicks off each district's performance. Motoshikkui-machi's performance for Okunchi includes a goshuin-sen with Sotaro Araki and Princess Anio on the bow of the ship.
A typical house scene, one of the front rooms given over to a business.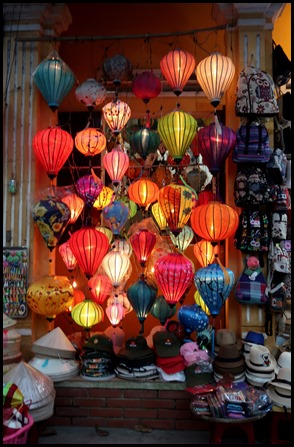 We have loved all the lantern shops.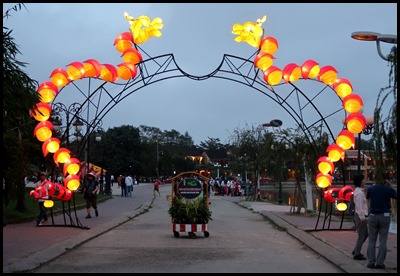 Back to our digs, walking past a lit dragon and over one of the Hoi An bridges for the final time after a thoroughly good day. Feet ache quite a bit.......
ALL IN ALL LOVE THE COLOURS OF THE TOWN
TRADITIONAL MARKET, LOVELY TOWN
---