To Royal Marina

Beez Neez now Chy Whella
Big Bear and Pepe Millard
Sat 28 Jan 2017 23:47
To

the Royal Phuket Marina
We left Al's beach at eight thirty for our final journey of Alex's holiday – just shy of ten miles to the Royal Phuket Marina
.
We leave the bay to two catamarans – so perfect here save for the no-see-ums............
Getting closer to the stacks – they really look their size as a motor catamaran heads in.
Leaving the stacks behind us as a yacht sails by.
The mainland coming into view.
Second mate – hard at work...............
We watched as this fisherman laid a complete circle of net.
Closing in on the mainland.
Our Pilot whizzing toward Beez.

We radioed the marina, the lady said to keep the markers to our right............ our pilot told me to keep the markers on our left.............

Two boats came out of the marina. The dredged channel is twenty metres wide.
Like buses and policemen.........
Our happy pilot and my unhappy back from yesterdays no-see-ums.....
Final corner, looking back and the marina entrance (corner not to be cut).
Our track in, a bit different to the white line on the map......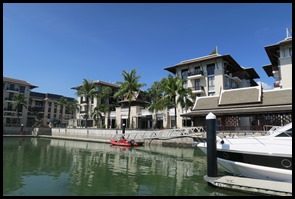 Our pilot jumped out into his dinghy at the marina entrance and shot off, leading the way to D4. The line handlers were swift and efficient and we were soon settled, handed a Welcome Pack, three cold bottles of water and three face wipes. The only sting in the tail is they have no 12 metre slots so we have to pay 25% more to be in a 15 metre berth. This will be the first time we haven't just had to pay for Beez own length.......... Growl.
Our Grand Tour. The route we have taken in the last nineteen days. Fourteen moves, two in hire car, two on trips and a total of just one hundred and twenty one miles on Beez Neez.
ALL IN ALL A FULL CIRCUIT OF FUN AND SCENERY
BEAUTIFUL SUNNY DAY
---