Queen's Finger

Beez Neez now Chy Whella
Big Bear and Pepe Millard
Tue 9 Jan 2018 23:57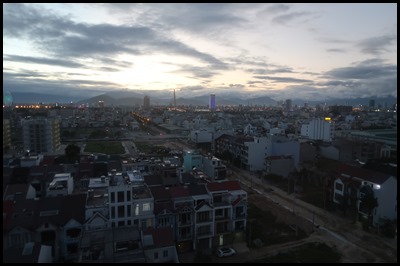 The weather was shocking, rainy and really windy, so after breakfast we took a day off. I wrote nine blogs to just be ninety three behind, a number I seem always to be stuck at. Bear found out about DMZ tours from Hue, booked our forward train ticket and enjoyed a long bath – only took half an hour to fill and I propped up the heat with frequent kettle boils. It was rather good at my turn to sit and soak watching dusk turn to lights slowly coming on.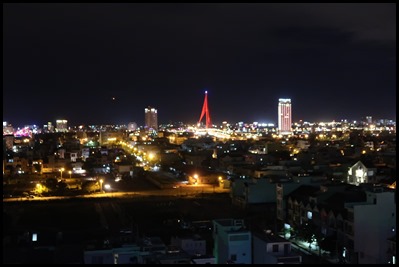 Darkness came as well as the need for supper.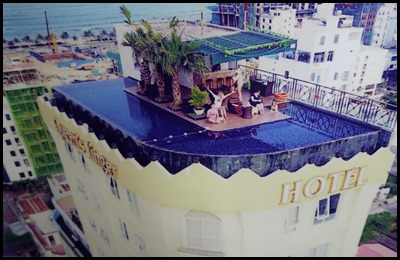 In the lift we saw these pictures, proving just how diddy the roof pool really is, but the lady posing makes it look huge. Shame it was so cold compared to the glorious hot sun of yesterday. Bear knew there was an Italian opposite, sadly closed so we bimbled.
We found a hotel for Bear to fill his need for pasta, crowded.............
A lump of jade behind our table was one surprise.......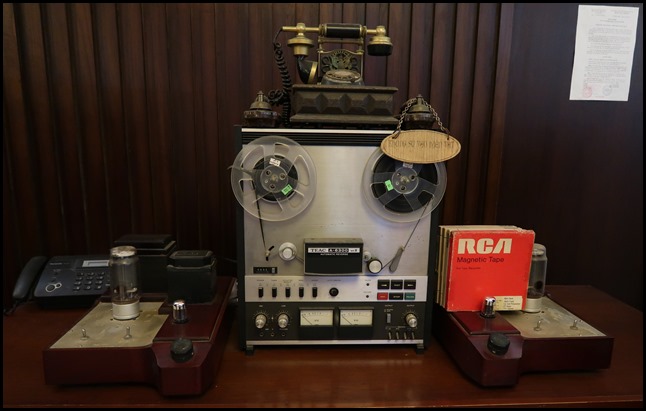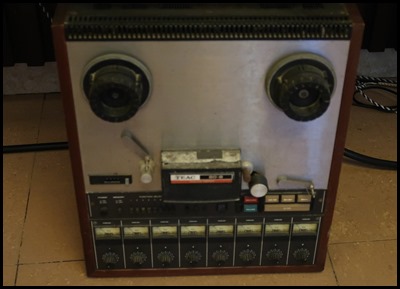 ..................but it just goes to show we can never tell what's next, old recording stuff in the lobby.
Back to our digs and a pool visit.
We could just see one of the loops of the Dragon Bridge.
The Sun Wheel on the left and on the right the Tran Thi Ly Bridge.
Still not quite used to the ceiling heart above our bed.........
ALL IN ALL REALLY GOOD – SHAME ABOUT THE WEATHER
VERY NICE TO HAVE A RELAXING DAY
---