Island Tour 2

Beez Neez
Skipper and First Mate Millard (Big Bear and Pepe)
Tue 5 Jun 2012 22:28
Exploring Isla Mujeres – Day Two
We jumped up this morning, list in hand and hit the supermarket for essentials. Today the Visa card worked, good, we walked out to find rain, not good. I sat on the back holding the handles of the shopping bags, good. As Bear drove all the rain fell on me, not good and each time a car overtook puddles joined me, definitely not good, but it did make me giggle. Shopping stowed on Beez, it was time to head north and find the ice cream man. Well water ice as opposed to Cornish cream but it was very welcome. As soon as Bear had been served our chap went back to reading the paper.
We sat quietly, enjoying the scenery
Until people started zipping past – and getting stuck. Help was on hand, but the rescuer moved so fast it looks like I've cut his head off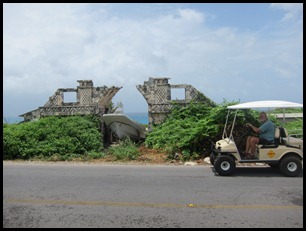 Lovely ruin, stunning brickwork but dreadful tyre-biting curbside
Up on the East Coast road, we saw some lovely houses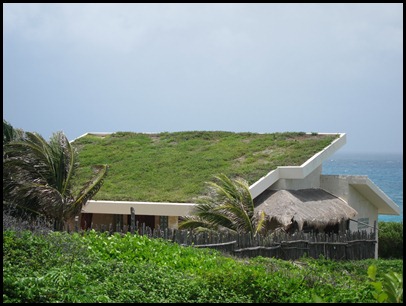 With a couple of surprises – an egg and grass on the roof ???
Cannons used as drains, whatever next
The coast here is very rugged and somewhat unfriendly
The little cemetery had a grand entrance and sea views
We stopped to watch workmen and a chap fighting a pipe dangling from a crane
Berger Houses
One Careful Owner and lean-to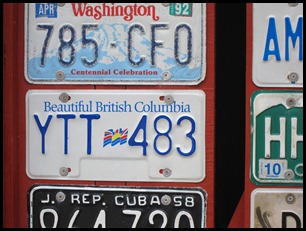 Not what we expected to see on someone's gates
Back in to a wet town, Bear chose where he fancied a late lunch, Jax
Mucky boy stuff
We dropped our hire 'car' off and walked back to Beez. Funny to see the sea to our right, the road to our left, the runway beyond that, a row of houses, complete with wind sock and just beyond the houses, the sea on the other side of the island.
ALL IN ALL GOOD TO KNOW WE HAVE EXPLORED ALL THE ISLAND
.
---