2nd Thamel Bimble

Beez Neez
Skipper and First Mate Millard (Big Bear and Pepe)
Sat 28 Apr 2018 22:57
Our 2nd Bimble in Thamel
We had a good, buffet style breakfast and the Director asked if there were any improvements to be made, this was a simple distraction from selling us tours, taxis and the like. We tried all means to get a plug for the bath and failed. Deciding that as it was a public holiday and going to rain this afternoon we would have a simple bimble in a different area of Thamel rather than visit one of the Durbar Squares. As we left our room late morning, we found two cleaning ladies. In my best Nepali.......I pointed to the sink in the room they were servicing and one immediately shot off into the supplies cupboard. All fitted and a call to reception and she was ready to draw a bath there and then for Bear. I didn't get that offer but two bottles of water were my booby prize. Out we went, turned left and first right to a new bit to us. Still much mad electrickery.
Such character, especially the slightly-lean-back blue ensemble.
We found ourselves in the button quarter, sold by weight.
Up an interesting ladder................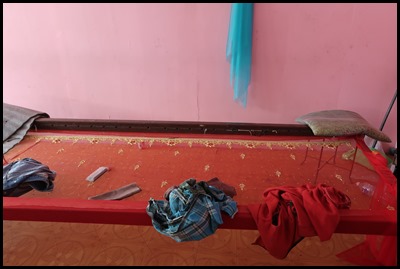 .....to watch sari material in the process of being embroidered and materials for tops.
Wholesale buttons with a cabinet on the wall containing labels that said Gortex, Cashmere, if fact an amazing amount of labels for knock-offs. We did wonder what went on behind the grilled windows.
A garden centre, wouldn't have put money on seeing one of those.
On we went, thank goodness no cars could come down this bit. A very steep ramp for a motorbike. The thread shop.
The young girl at the back of the picture is using an old-fashioned water pump. Households twenty years ago would queue to wash, do laundry and collect water for their home use. Now Thamel is the first wi-fi zone in Nepal but still caters to a myriad of tourists, hippies, trekkers coming in and out, shoppers, trinket hunters and those seeking the unusual.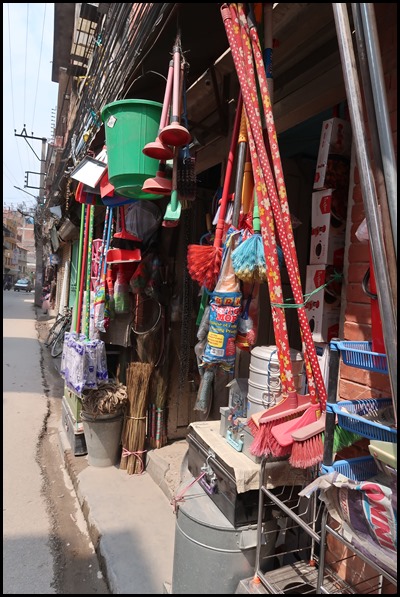 An attractive building and a hardware store (I was prepared to buy Bear a plug, had we not got fixed up. Such a romantic gesture......Huh.
Along the way.
This butcher shop smelt bad, even though it was supposedly clean and closed. Numbers of flies rooted about in the cracks on the chopping surface. Must come back during opening hours.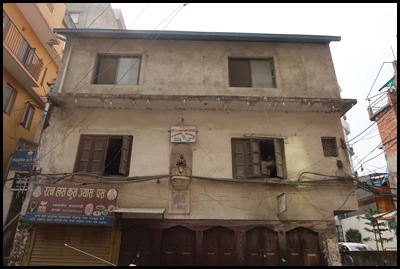 Newer windows at the top, shutters below. A lady about to begin todays building project.
Work in progress.....
Posh up an alley.
I loved this pharmacy with bulging stock on the shelves. Bear liked the Trekker's Pharmacy around the corner.
A very busy shop.
We found a bakery, Bear popped in for a pizza slice and cake for his supper. Didn't expect to see a burger and crispy chicken joint in the far corner. Quadrant done, we just got back to our room before the heavens opened......
ALL IN ALL A HIVE OF ACTIVITY
QUIET AS IT'S THE LOCALS SUNDAY
---