To Cammeray

Beez Neez
Skipper and First Mate Millard (Big Bear and Pepe)
Tue 8 Dec 2015 23:57
To Cammeray Marina
After our incredible nine and a bit miles – there and back to the Sydney Harbour Bridge, we were once again opposite the 'doorway'.
"Mine, mine, mine" were searching for Nemo.
We turned left and entered Middle Harbour.
The lighthouse on Grotto Point.
Wiki says:
Middle Harbour (or Warring-Ga), a semi–mature tide dominated drowned valley estuary, is the northern arm of Port Jackson, an inlet of the Tasman Sea located north of Sydney central business district on the coast of New South Wales, Australia.
Middle Harbour has its source in the upper reaches of Garigal National Park where it forms Middle Harbour Creek and flows southeast to become Middle Harbour at mouth at Port Jackson between Grotto Point near Clontarfand Middle Head.
The catchment area of Middle Harbour is approximately 100 square kilometres (39 square miles).
Course: The shore of Middle Harbour is nearly everywhere rugged, barren and forested and for this reason Middle Harbour was almost entirely neglected during the first two centuries of European settlement in Sydney. There are only a few small patches of flat land on its shores. There are many small creeks draining the surrounding hills, but no significant rivers flow into Middle Harbour.
Within Middle Harbour are, from upstream to downstream, Shell Cove, Pearl Bay, Long Bay, Sugarloaf Bay, Bantry Bay, Fisher Bay, Sandy Bay, Sailors Bay, Powder Hulk Bay, Willoughby Bay and Quakers Hat Bay.
Middle Harbour is a significant physical barrier between Sydney and the suburbs known as the Northern Beaches area which lie north and east of Middle Harbour.
There are only two bridges - the Spit Bridge and the Roseville Bridge. Because of this obstacle, historically the main transport between Manly and Sydney was by ferry.
Since the 1920's, most of the land on the ridge-tops around Middle Harbour have been developed for suburban housing. Much of the rugged shore of the Middle Harbour remains covered with bushland, most of it now protected by parks and reserves. Middle Harbour is a popular area for recreational boating and fishing.
Cliff top houses to our left.
Looking across to our left, is that a lighthouse in the middle ???
Now that is unusual, a lighthouse in the middle of parsey houses.
Through a shallow bit and we can see a marina and Spit Bridge peeking on the right.
To our right more lovely houses and a beach.
Fancy living in a beautiful house on the beach and have your yacht parked out, just there.

We pottered forward until we saw the two courtesy buoys ahead. From here we could see all of Spit Bridge.
To our right there was a little cul-de-sac with the strangest rocks along the shore.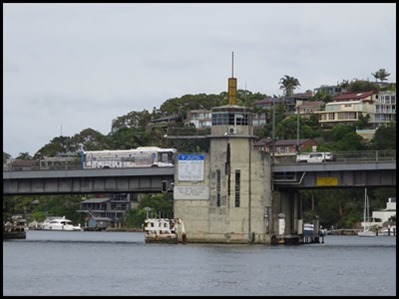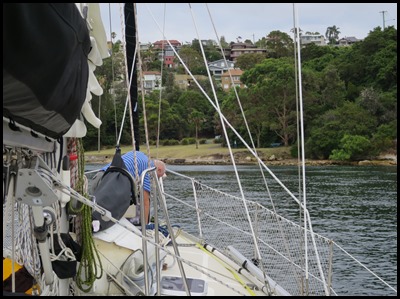 I watched the bridge as Bear got ropes and fenders ready. At five past ten we begin to circle and another boat joins us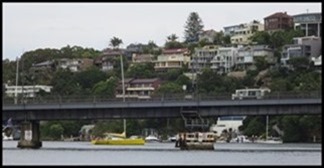 We watch the yellow boat circle on the other side as we circle and all of a sudden the lift began.
The yellow boat comes through and all of a sudden another three swing into sight. We wait for the light to change, been a while since we have done this, Miami in fact.
Statement of significance, Heritage and conservation register, Roads & Maritime Services, 24 November 2003. The Spit Bridge, completed in 1958, is of state significance. It is a substantial landscape feature that has played a crucial role in allowing the development of the northern beaches suburbs to occur over the last 44 years. The Bridge is also extremely rare as it is the only lift bridge still operational on a major arterial road. As such, the Spit Bridge is representative of all the major lift bridges that were once a common sight throughout NSW. The relative lack of modification to the original design of the Bridge also contributes to its level of significance. Historically the Bridge has a high level of significance developed primarily through being part of an important local transport route that has been in operation over a large period of time in several different guises. The Spit Bridge Cultural Landscape also contains the remnant features and locales of the former bridge and punt crossing and the remains of other transportation links such as the tramways. These additional items add to the significance of the Bridge through their ability to add to contextualise the current bridge as a single element of the crossing points colourful history. 
We called our thanks to the Bridge Master – looking teeny on the observation deck. Through we went and Sashay II followed on.

On the other side of the bridge we were in an enormous area.
A new build and a 'one careful owner'.
We followed the chart plotter, it told us to turn left into the first cul-de-sac, we did and Beez wiggled in between the parked girls. Toward the end it was apparent there was no marina and a chap in a launch laughed and told us to turn around "before you run out of water. The rescue boat didn't a while ago and ran right up onto dry land." OK then. Back we went and took the next turning.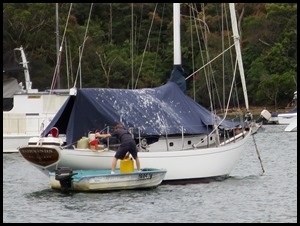 Birds seem to favour blue covers to poop on – oh, wait, ours are black. Best put some frighteners up before we leave the girl.
Another build, another 'one careful owner' and we arrived at the easy to enter berth. Engine off, chores done in double quick time and crawl into bed with painkillers, what a start to our Sydney At-Venture.
We're here
What a smashing journey – Newcastle, Sydney to Cammeray 81 miles. YEHAA and YAY
ALL IN ALL NEVER BEEN SO PLEASED TO BE IN
REMINDS US OF FOWEY IN MANY WAYS
---