To Maurole

Beez Neez
Skipper and First Mate Millard (Big Bear and Pepe)
Thu 25 Aug 2016 22:57
To Maurole, Flores Island
Just after six thirty we were ready for the thirty eight mile, coast hugging journey to Maurole, just five boats to wake up and make a similar move.
As we set off the clouds looked impressive over the mountains.
We went out a fair way to avoid the FADS (fish attracters) but they seem to be quite randomly placed.
The clouds begin to rise.
A quick look around and we settle to Tri-ominoes, I'm still twelve behind........Growling........Huh.
Passing a potential anchorage with good snorkelling.
In fact, several little hidey-holes.
Out to our right another FAD, wouldn't want to do this coast in the dark.........
Hybresail enjoying the afternoon.
Afar VI heading in to the anchorage.
The anchorage of Maurole, we choose the far right by the telephone tower, pretty good internet but not strong enough to send blogs, oh well. We found the river exit an two metres below.
Flags out in welcome for the rally boats. Tomorrow night is the gala dinner.
Todays journey, safely anchored at half past two. We enjoyed lunch in the cockpit, I lost badly at backgammon – more growling. Val and Richard (Kereru) popped over for a chat and after they had left we enjoyed a swim around Beez, waving to the local fishermen as they made their way home.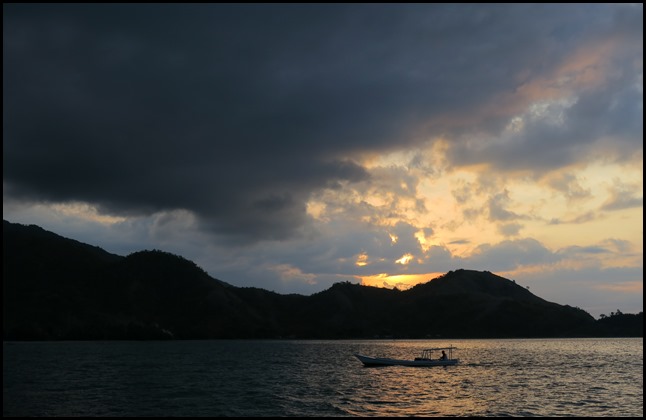 A local passing by as we watched the sunset. Bear fancied corned beef, a dollop of mash and salad for supper. Happy food. I had salad, shaved parmesan and bacon bits. Very happy food.
ALL IN ALL A PEACEFUL DAY SAVE FOR MY LOSSES
LOVELY SCENERY TO A QUIET VILLAGE ANCHORAGE
---