1st Feb Update

Beez Neez now Chy Whella
Big Bear and Pepe Millard
Thu 1 Feb 2018 23:57
1st Feb Update for Beez Neez
I was only going to do Beez update once a week but it's all too exciting. I really, really look forward to Bear returning to 404 each evening with new pictures. Sitting beside me as I load the photographs on my laptop, then going through the days progress and updating me on the new electrickery. Mark in action in the cockpit.
New fat wires in the office. Bear's cupboard in the office coming along neatly.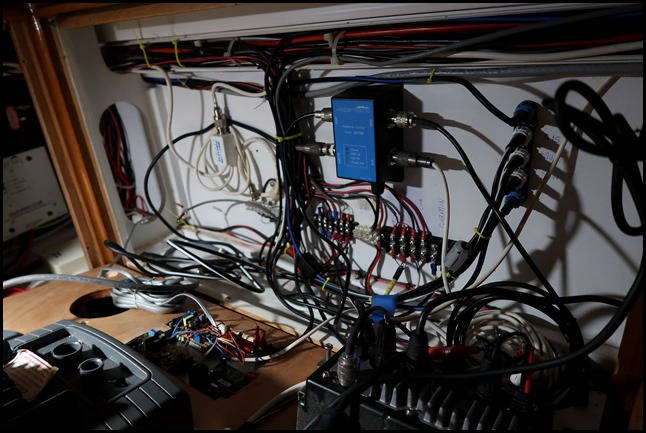 The big panel at the desk, also coming along well.
The limpet mine (aka forward facing sonar) all fitted and can be moved in and out of service from indoors.
Wow, the new chartplotter (not sure if black duct tape won't be slid over the less-than-small lettering........
During and after. How neat is the cockpit instrument panel. At lunchtime Bear had asked me if I fancied grey or black surrounds – well, as Mr Ford is happily misquoted as saying "You can have any color you want as long as it's black". Wow. All covered in protective sheeting until we launch. Yeeha.
ALL IN ALL THE BOYS ARE MARCHING FORWARD
BEEZ ELECTRICKERY COMING ALONG AT A GREAT PACE
---