Bits and Bobs to the 22nd of September

Beez Neez now Chy Whella
Big Bear and Pepe Millard
Sun 22 Sep 2019 23:57
Another Quick Week – to the 22nd of September
Sunday the 15th of September. The week began early with seventy-three local fishing boats in the bay, laughing and shouting at five o'clock this morning........ By nine o'clock there were just forty-one........ After breakfast Bear attacked the salt water pump he had bought in the week from the chandlery up the road from the anchorage here in Crater Bay. After fitting and finding it leaked (despite being told it was new), Bear went about trying to reseal the pump but no, leaked like a sieve. He plans to return it to the shop and get a refund. Virgin Bank card reader system was due to begin today but that has been cancelled for now.......
Lunchtime. We went ashore to see a yachty dog having fun at low tide. Every other Sunday is pig roast but today was 'bring your own to BBQ', with the kitchen upside-down, we ate off the menu and Bear's steak in pepper sauce was delicious. I had my now 'usual' honey pork chop and chips. Late afternoon Irma and Kevin, Jane and Craig returned from South Africa and were soon enjoying a cold beer. Lovely to catch up. Dropped back to boats, we all decided on a few sherbets ashore in the evening.
Monday the 16th. This morning we picked Irma up to drop her at the supermarket (Kevin stayed aboard to do blue jobs), en route with Denis, our taxi driver, to the airport for our Visa run. Loving putting dotted lines on a map. At the airport we found Vince who was accompanying Rena and Andrea (Zap) also there for a Visa extension. They paid in local, we were told to bring Euros, and the following day Brett paid in US dollars....Mmmm. Sixty-one pounds and eighty-six pence for both our Visas and twenty-five pounds and sixty pence for the taxi. All done in four minutes, well the Visa was. I felt done the whole day. We may not need the extension (until the 28th of October) but it keeps the pressure off Bear for remaining jobs and the ever looming leak, more to follow.
It was nice to see a bit of inland Nosy Be. Along the way we saw kapok trees, lots of greenery and some odd-shaped, stumpy trees no taller than a man.
The cananga odorata, known as the cananga trees produce a yellow the flower used to make ylang ylang perfume – the island is famous for. The trees are kept to a height that makes harvesting the flowers easier.
Scenery as we headed back with Denis.
One chap resting and back in Hellville, another working.
The market, as always was in full swing. Ten minutes to the mall and we met Irma in Leader Price, Monday is not the best day for choice but we filled a trolley, loaded with Denis we headed back to Beez. A message came through that we were all to eat ashore as a 'farewell' to The FOB Four. Too soon to have honey pork and chips, I took a salad for me and Bear had pizza.
Sunset. A full moon and Ken and Beattie (Petra) who organised the evening.
Tuesday the 17th. The day began, as usual with being woken by the fishermen. I know I'll hard boil some eggs. Other than a fun egg event, so far so good. Bear put the generator on as overnight things drop as I am still running the booze fridge as a freezer and Bear has not got around to fixing a problem with the solar panel wiring. Bear returned the water pump and got a full refund. I compared Media Monkey to Bee Music.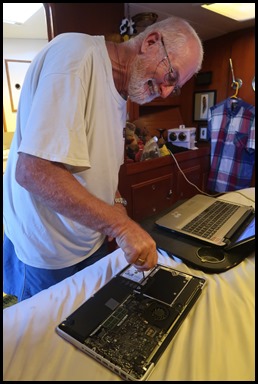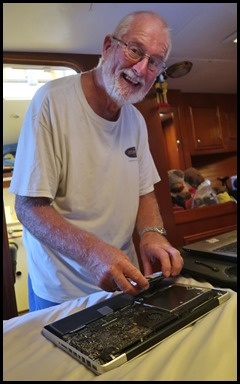 Ooooo, well, whilst the generator is on methinks to charge up my elderly Mac Book Pro that has been on bed rest since Malaysia. Switch on. Bleep, bleep, bleep. Look at forums and videos, press lots of tabs as ordered. Bleep. bleep, bleep. Call in the boss who watches a more complex video. Bleep, bleep, bleep. Suggestion is – the battery is deceased. Look up price, between $129 and $199. Simply cannot justify that malarkey. Back it went on the shelf from whence it came. Helped Bear in the office and managed to poleaxe my middle toe with something that fell off the shelf, followed by a five nil loss and a hammering at Mex Train – is it too early to retire injured. No but you can go for an early shower. Growling quite loudly.......
Wednesday the 18th. Back to Sakatia Island and colour me happy – a chartplotter with detail and depth.
Overnight did it rain. It hammered from two until half four and other times a fine downpour. At one point the leak was a constant drip and the jug filled to the brim in no time. Another restless night emptying, checking and puzzling.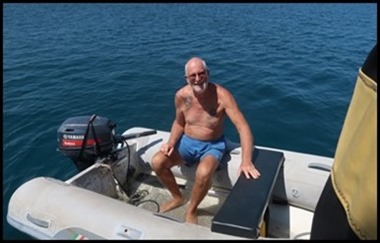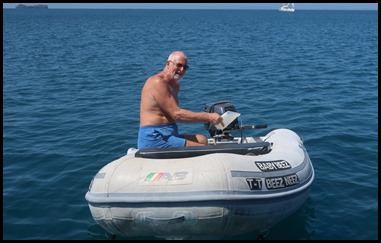 Difficult to see but Bear is over ankle-deep in rainwater. Fifteen minutes of bailing required.
Thursday the 19th. Chores and jobs kept us busy until we went ashore at four to enjoy a late lunch with Beattie and Ken, Irma and Kevin, Kimi and Trevor – fish, octopus (not for me), rice, salad and bread. A gentle dusk, sunset and later Kimi was put in charge of giving the children lollipops that I had found getting sticky in our supplies.
Friday the 20th. At seven we boarded Canace to have a super day out with Kevin and Irma (own blog). We motored to Nosy Fainhi about ten miles away to snorkel, lunch and have a cracking sail back just before sunset. We tried fishing but sadly no bites. Beattie and Ken watched whales swim around Beez and we await the photographs eagerly. A local along the way. On our way back we saw the tails of two whales (very white under, very black uppers) and a few spouts before they took breaths, sadly they were swimming away from us at quite a distance but lovely to see.

Dusk as we came down the channel between Nosy Be and Sakatia Islands and Beez at sunset.
Saturday the 21st. A slack morning, lunch and at two we headed back to Crater Bay. A dull afternoon with an early sunset. Just as well as Vince 'welcomed us by mooning' – not for old ladies or young children...
The pleasing picture as we pulled into the bay was of this local lady with a very sad looking sail but still moving at speed.
We picked Vince up at half five and headed in for supper. From the left: Bear, Mandy and Brett (Leventeia), Vince and me. Back on Salty Dog we 'tidied' up the ice cream, port, rum and as Bear had mixed me a vodka and lemonade to take, that had to be finished as well. A great evening with calls to Vince's friend Corrina in Cape Town. She has kindly ordered us two three terabyte external hard drives and Vince will bring them back on the 2nd of October. Yay, happy me, I can finally tame all my music and Audiobooks into one corral. Did it rain at midnight. Silly us, we left as it got a little lighter, back to Beez soaked to the skin and just after we stepped aboard, yes, it stopped completely.......
Sunday the 22nd. Bear picked Vince up, swung by for me to wave – primarily so I could check that this rascal had indeed left..... We will see him again on the 2nd of October. Missing him already – not..... At one we went ashore for pig roast with Allen (Nauti Nauti), Kimi and Trevor (Slow Flight) and Mandy and Brett (Leventeia). Back to Beez for backgammon and Mex Train (I won both, makes a change at the minute, growling). Settled to watch a White Collar only to find the TV or Media Player are on strike. Both growling.
ALL IN ALL FRIENDS, FUN AND FOOD
A FEW GOOD BREAKS BUT CONTINUING CHALLENGES
---