Crab Fest

Beez Neez
Skipper and First Mate Millard (Big Bear and Pepe)
Sun 12 Apr 2009 22:30
Crab Fest
Off we went in search of the crab fest at Morne-a-L'Eau, the long queue of cars bode well for a day I thought would resemble a county fair. The clouds looked ominous when we saw the flags -
www.feteducrabe.com
Bear in the square.
The whole day was a celebration of this chap - the Mangrove Crab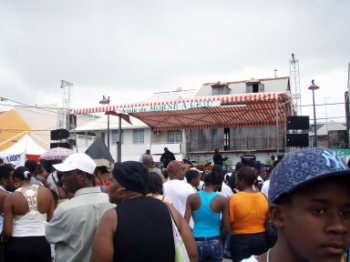 The first thing we saw in the huge crowds was a man leaning against one of the stalls, he had a bun just the same but from the front had a huge bushy beard. The band preparing - noise awesome.
The colour, the tradition, the people - including this chap with a huge nose-ring. The noise and crowds was very unfamiliar to us.
A man had made these enormous creatures and was selling small ones.
Crabs were everywhere, fresh, raw, cooked and stewed. The man selling from this van picked out each crab and laced his claw hand with sugar cane - then laced a kind of jock strap around the carapace, when four or six were ready he laced them together, rather like a string of onions. Very strange the first time we saw it.
We stood and enjoyed a band of drummers, own web site
www.masbokoka.com
This lady was selling traditional juice, her right hand is using a kind of plane with a box that scrapes and collects ice, which she packs into a cup and adds juice. Original Slush Puppy. Crabs everywhere. It poured hard for a while during a cloud burst, that didn't bother anyone's fun - just gave me a chance to fill my lungs with some terrible aromas - I use the term loosely, coming out of the food tents.
The top dish is stuffed christophines (Bear bought two) the lower dish is stuffed crab. He also bought himself a box of crab paella.
This green crab stew I will not even begin to describe how it smelt, I was just too pleased when Bear said he didn't fancy it. Ladies at one of the many food stalls. The number one judged dish of the day.
All I will say is you have to love someone to sit opposite them when they eat something like this. I won't mention the bodily reaction to it either.
ALL IN ALL a very unique day dedicated to the humble mangrove crab.
---