Maroochy Bimble

Beez Neez now Chy Whella
Big Bear and Pepe Millard
Wed 4 May 2016 22:57
Maroochy Bimble to Coles
We left the marina in search of Coles, the chap in the chandlery had told us we could walk along the road, the beach or the coastal boardwalk, we chose the latter and found a shady, wooden walkway.
Along the boardwalk were cross tracks to the beach, plenty of warnings about currents and where to swim safely.
We passed a couple of ladies resting in the shade. The Australian Brush-turkey has a mainly black body plumage, bare red head, yellow throat wattle (pale blue in northern birds) and laterally flattened tail. The Australian Brush-turkey is not easily confused with any other Australian bird. It is the largest of Australia's three megapodes (Family Megapodiidae). The megapodes are a distinct family of the group of fowl-like birds (Order Galliformes), which includes quails, turkeys, peafowl and junglefowl.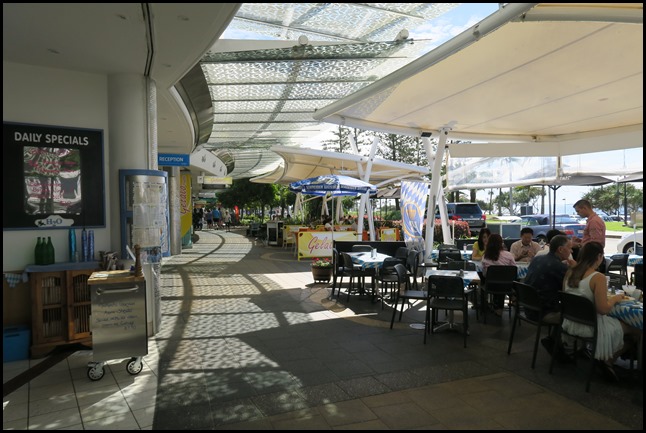 We popped out at the end of the boardwalk, asked for directions and crossed the road to continue through 'where the beautiful people shop and coffee' along the Esplanade. We stopped for an ice cream and a few mini-malls later saw the sign for Coles.
Shopping done we decided to walk back along the beach path until we got back to the boardwalk.
The local memorial to Steve Irwin.
The first of a couple of breather stops on our way back.
Our next stop took in some wave watching.
The next was simply to enjoy the view toward the fairway along the beach.
Our last rest was by the Lifeguard station. I watched a fishing lady, Bear watched the lady.......
Back to the beginning and a chance to read about the flowers.
Commemoratives each side of the start.
We walked past several BBQ areas, all clean and well maintained, there are also showers, feet washing and conveniences – how well the Australians and New Zealanders look after their tourists and no graffiti in sight.
We watched an interesting lady.

In fact we waited until she had entered the Fairway.
Back at the marina we passed yet another lady – project in progress. Just over a mile to Coles, shopping away, time for a cup of tea and a backgammon win........ Huh, not if I can help it.......
ALL IN ALL WELL KEPT, LOVELY FACILITIES WITH WONDERFUL VIEWS
BEAUTIFUL COASTAL WALK BY THE TOWN
---