Local Oops and Karaoke

Beez Neez now Chy Whella
Big Bear and Pepe Millard
Wed 2 Oct 2019 23:57
Local Oops and Karaoke Night
Bear settled in the cockpit for lunch and all of a sudden there was a real hullabaloo. Quick, quick bring the camera. A big local boat towed in a mostly submerged girl. Alain (our next door neighbour) picked up the chap looking after Salty Dog while Vince is away and the two went over to see if they could help. A few dived in from the big boat and paddled over and a couple of chaps stood on the upturned hull. Clearly more than one dinghy was required.
Bear left his lunch and joined the group.
Lots of shouting, whistling, hand signals (for Bear) but soon an orderly formation began to pull for shore.
Several rope slips, re-attachings and after some movement......hard aground in a very low, low tide. A meeting took place and it was decided that another attempt would be made late afternoon by the big girl, when there was enough water to enable the rescue. Meanwhile we went ashore to meet Vince, back from his Visa run to Cape Town, a quick beer ashore then back to Salty where he handed me my two, brand new, all sparkling three terabyte external hard drives (to finally put all my music and audiobooks together in the same place and have a back up, yes dear. Then, he handed one that he had bought for himself for me to fill. Mmmm. Better get started on that, several days methinks.
Bear took various people back to the waiting big boat and returned to his lunch. At five o'clock, after a conflab, things began to happen.
Minor adjustments, more discussion..........
.......and off the pair went, as did we to head in, with Vince, for what will be a 'leaving do' for several boats.
Princess sung beautifully and with deep feeling as Maria served her noodles as a side dish.
Kimi and Maria.
Princess had me shake my booty and Kimi ended up with two beers.
Quinton, Beatie and Irma enjoy a serenade from.............
Renee and Vince. Renee had a sneaky peek at the words on the karaoke machine and Vince was presented with the little cap from a tequila bottle.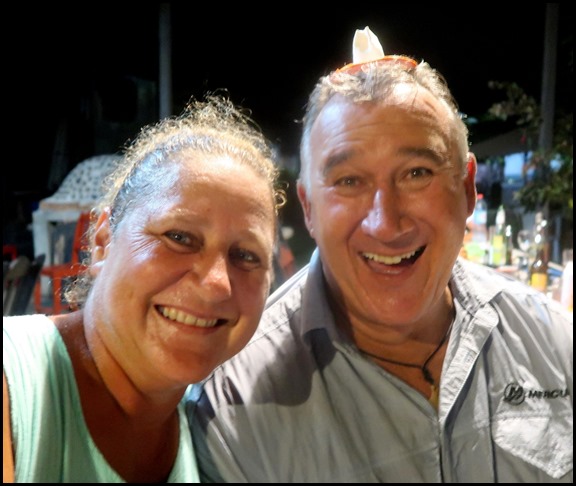 Smiles at the end of their 'turn'. A chap we didn't know murdered Bohemian Rhapsody and several tried to 'sing' popular duets. Sherbets flowed and at ten it was time to disco.
The bar ladies came onto the floor to show us how to shake our tail feathers, line dance Malagasy style and boogie with a bottle on our head, Beattie was surprisingly good at it despite the number of cocktails.
Irma practiced in the corner, serious stuff and impressed.
The poor sax player had waited all evening for his 'turn' and at a quarter to eleven he gave a great performance. By then things were getting pretty messy and Bear became a hit when he put his beer label on his forehead. Then he went downhill fast, not truly remembering getting down the steep ramp (tide out), dropping Vince back to Salty or sitting up in bed attempting to watch an episode of White Collar........I closed his laptop, demanding he take his glasses off, put his snore ring on and "Goodnight Irene".......
ALL IN ALL FINE ENTERTAINMENT
NEVER A DULL MOMENT
---