Journey to Gan

Beez Neez now Chy Whella
Big Bear and Pepe Millard
Sat 1 Jun 2019 23:47
Our Journey to Gan, Addu Atoll, The Maldives
Wednesday the 29th of May. Engine on at nine o'clock, bad storm behind us, it was time to leave the dear little island of Hulhudheli. Bear struggled to lift the very, very well dug in anchor but soon, off we went. The lovely Nasru rang to wish us a safe journey.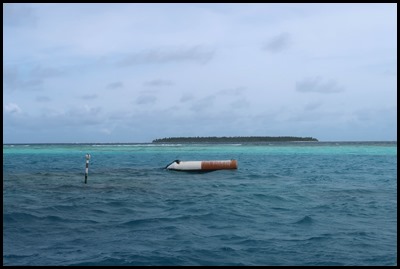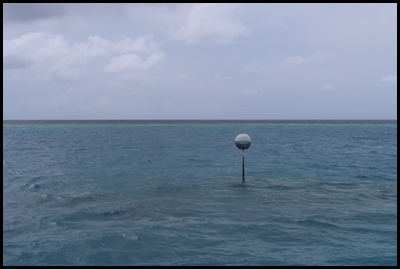 The current hoofed us out of the pass.
We never did get to stand on the tiny islet to (now) our right.
A very chirpy and optimistic skipper, as always. Against the current now, it was a struggle to make any speed. Through the gap in the islands our speed was zero for a second or two but we averaged one point eight knots.
It took a couple of hours in rough water (can never see that on a picture from our angle) to have the island behind us, but with the genoa out we began to move.
At six o'clock, my dodgy shift as always..........we had an hour or so or squalls with quite heavy rain, wind to 29.2 knots and for a single second speed at 9.2........ At twenty past nine we both heard a big 'CLONK' from indoors. Bear went to investigate and found one of the alternator bolts had simply snapped. Serious problem but he soon rigged a back-up system. We can only hope to get a new bolt, get the issue fixed or remove the plate and get it drilled out, fingers crossed as Gan has an airport and hopefully engineering works. Conditions, the bolt and a severe leak through the genoa sheet track, we think – straight into the electrickery cupboard. Both of us now feeling very low indeed. Thank heavens for a good supply of kitchen towels. We had to change the dripping bundles every hour, Bear asked if he could use a towel, who was I to refuse.......
Thursday the 30th of May. We both had very long shifts and half an hour after I came on at ten, an exhausted Bear was snoring within seconds. Somehow with genoa out and engine keeping us on course we managed ninety-seven point six miles in our first twenty four hours. Making egg rolls for Bear at lunchtime was a complete laugh, it took ages to go one-handed to the fridge for an egg, back to the cupboard for salt and pepper, back again for the mayo, again for butter, knife, breadboard. I had done a fair few stomps by the time I braced in the cockpit. Far too dodgy to try downstairs as I was being slammed back and forth between the cooker and the back of the settee. An aside funny is taking five minutes to get a clean pair of knickers on. I was too tired to remember the tried and tested way. Go outside and brace with both hands as Bear finds the holes for each foot......I'll remember next time. What am I saying ??? I'd be happiest on a glassy sea or the purest, palest blue..........
When Bear took over from me he had a nice surprise, a pod of small dolphins came to play and stayed with him for a while.
Later, I had a nice surprise too, Kota Machan was going to pass in front of us, but as she would be less than a mile off I slowed from seven point four knots to five and the gap became nearly a mile and a half. This six year old girl from Singapore was on her way to Penang in Malaysia, due in on the 4th of June at one in the morning.
These big girls seem to take hours from when you see them on the horizon to pass but once passed they zoom off incredibly quickly. Changing tack Bear saw the right genoa sheet was caught on something. On went his life-jacket and off he went, sea big, clipped on, it's the fastest I have ever said a Rosary in my life and I was hugely relieved when he came back into the conservatory head first in a 'sack of potatoes' sort of way. The rope was caught at the back of Baby Beez. He was only gone a couple of minutes but they seemed like half an hour.
Just as I sat down for my eighteen hundred shift, yes, more squalls, in fact this was my first shift where I had four solid hours of such loud, heavy rain. Every time I thought I was through one, another immediately formed, the wind and current was so strong then I shrugged and went off course, The wind was steady at twenty knots with several gusts to thirty. So pleased I am listening to the epic Noble House to half keep my mind off conditions. My view – mmmm. Always so reassuring to have Bear snoring away beside me.
Friday the 31st of May. At four forty I woke Bear to get ready for King Neptune and crossing the equator for the third time (of four). We were bouncing so much I couldn't focus the camera so the last northern reading and indeed the zeros South are very blurred. Bear had some rough weather on his shift, meanwhile I had quite a gallop on the bed, only a couple of times airborne.........
I came on at ten to ten to see Bear with a head injury, almost a perfect M. How did you do that. What. Your head wound. Where. This may take some investigating, I can tell you know. I took these pictures and showed him. Oh, well I was busy and swore for a second or two and then got on with what I was doing. What were you doing ?? I can't remember. I guessed metallic and looked at the sharp corner of the solar panel, no. Then I saw the evidence, he had fallen on a wave whilst pulling the genoa in and head-butted the winch, I pointed. Oh. Our twenty four hour tally at ten was two hundred and nine miles, we had managed one hundred and eleven point nine miles. Again fun and a repeat whilst making Bear's rolls. He managed breakfast and rolls, I managed a carrot, my Fybogel and for lunch a little yoghurt. Needless to say we both lost half a stone on the journey.
Finally, the wind eased a little and we could do the Flag Ceremony. The weather ever since we have entered The Maldives has reminded us of waiting to get to Montserrat, arriving with no courtesy flag. Today, we thought we could get away with it and after a quick pose, Bear put on his life jacket and set off. Soon the National Flag was up, joined by the 'Q' yellow flag. Whilst he was out there the decision was made to put the main up to see if it would help against the enormous current. Wind was swinging thirty degrees each side of true so I had a delicate job and frequently had to shout "hang on". Eventually all was well and Bear was back in the cockpit, safe once more.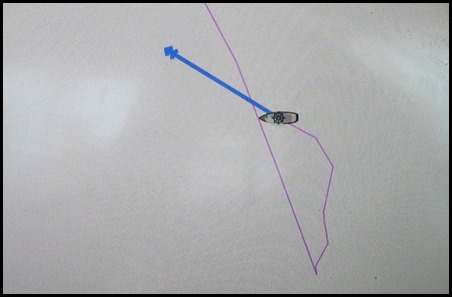 Not the track you want to see but the current was the winner.
Temperature and humidity has shot up now we are in the South. Bear, like the other day was exhausted and fell heavily asleep and within minutes was doing his whelk impression. Why don't you ever put pictures of yourself asleep. I put it down to the head injury, "you would have to take them you goon. Oh.
After half an hour he woke with a stunning plan and rushed to the office. He used the towel as a wick into a drink container, it certainly lessened the water flow and I hailed it as a great idea. See head injury not too bad then. Errrrr, don't push your luck, matey....... I saw the carpet under the desk was now sopping and put my shower towel down to mop up some of the 'pool'. The end of the bedding is wet so that will have to be attended to, but, not until I can stand at the sink and not be bounced about. We had so hoped to be in this afternoon but......... fingers crossed for a better night than we have been having.
After lunch a quick top-up with twenty litres, You have to love deeply and admire solidly a man who can keep smiling no matter what, so pleased he is mine. No sooner than that little job was done, yes, rain.
My eighteen hundred shift, I wish I could tell you honestly that I was thinking "bring it on", but I wasn't. Inwardly I was sighing. The sky was a mixed bag.
The zoom in on this picture was badly blurred but this does show the squall beside us. We have spitting rain and you can actually see where the grey part of the sea is being hammered flatter by the intense rain. Thankfully the sea, although a bit rough and the wind had us leaning to the left, was not angry.
Bear is called Mr Woo when he puts the washing out. I get called Mrs Beaufort when it come to 'numbering' in the Logbook. One is a nice, sunny, perfect sailing day. Two is a bit lumpy. Three is being thrown about a bit and four is whatever personal expletives you care to conjure up, fortunately not a common entry. This journey we have individually awarded fours to the total of six. Mmmmm.
After another one of those nights, both very tired, we found a little smile at the sun trying to get his hat on. Quite dark sky though.
We had to be proper sailors and do all that tacking malarkey.
Saturday the 1st of June. I was not one bit sorry to only get an hour and a bit of sleep from six. I came out to shout "Land Ahoy". To say we were relieved is an understatement.
ALL IN ALL A BIT OF A TRIAL, STRAIGHT IN AT NO:4 ON THE WORST LIST
A BIT ON THE ROUGH SIDE..........
---