One Mile Beach

Beez Neez now Chy Whella
Big Bear and Pepe Millard
Thu 13 Nov 2014 23:47
To One Mile Beach and So Much More
We had a good breakfast served personally by Will then in the Beast to park near the marina. A look at the beach, a 'mum' in bloom then a little trot around the grockel shops. The plastic seagulls sitting on a little rock look just the same as any found in Cornwall. Sadly, just as everywhere that well-known 'made in China' is much in evidence. A group of chaps waiting at the bus stop. Next we went upward to Nelson Head. There we saw a memorial plaque on a whale bone.
We popped in to the Marine Rescue office up the stairs, were warmly greeted and the lovely staff promised "to keep an eye out for us" next year when we come by on Beez Neez.
Next stop was Soldiers Point,
originally the site of a
garrison
of soldiers that was established in 1820 to hunt down escaped convicts. He
re we saw some chaps, know what we can and cannot catch and this little girl is 'for sale' at $29,999.
Then to Wal-Mart for 'the Colonel' to get new sandals and on to an oyster farm with a lovely view.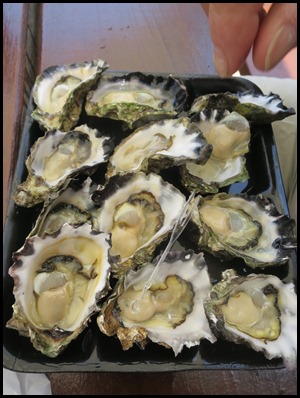 Cannot see this as fun, I'd rather eat my flip-flop raw but 'the Colonel' tucked into his oysters.
Bear partook of the proffered 'creature' but soon joined Sue and I with our kilo of big chaps.
Then it was straight in the car, on the sleds, up the slope and a quick hurtle down on the hill.
Last bend, safely at the bottom, mind out for koala bears and off to the beach.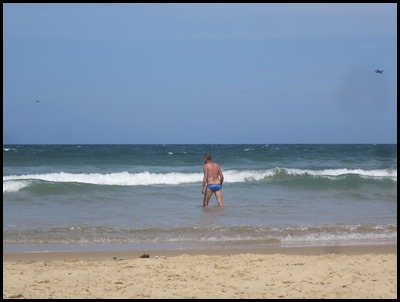 Our first sit on Australian sand by the sea was at One Mile Beach. I watched as 'the Colonel' waded in just as the Royal Australian Air Force were nipping back to base. He soon waded out, not warm and a chill breeze.
Bear ventured in but Sue and I just tested and gave three points for a refusal.
The nudist beach opposite had nary a soul bare but the kite surfers had a good time. So cold was one lass that she succumbed to needing the Beach Rescue lads to warm her in blankets and snap on an oxygen mask. All done it was time for us to nip back for a shower, then a swift pint or two before a smashing Indian meal. No rocking needed once in bed.
ALL IN ALL A FULL AND FUN FILLED DAY
I JUST MAY HAVE TO SNORE.......
---