Sunday Market N.C.

Beez Neez
Skipper and First Mate Millard (Big Bear and Pepe)
Sun 22 Nov 2015 23:57
Sunday Market, Noumea
This morning at a quarter to seven we stood at the back of Beez to wave off Alita. Marcus wanted to be on the fuel dock by seven, then he and his crew were setting off for New Zealand. As we watched her disappear around the corner we both wondered if we would see her again. Time for a cup of tea and as we are up and about, a bimble to the market.
A cruise ship is in so the quayside was amass with passengers sorting out their day trips, some snorkelling, some diving and a minibus full went off on a tour of the island, so early to be queuing......oh, the life of a cuiser. A happy trio entertained, we slid through the throng en route to the building beyond – the fish market.
These chaps come in at seven pounds per pound. We saw mahi-mahi at five pounds a pound.
Everything was 'just caught fresh' but the tiny lobsters no more than six inches long, well, we would have thrown them back as too small. These pairs were a whooping nine pounds each. The big ones were an eye-watering twenty pounds per pound.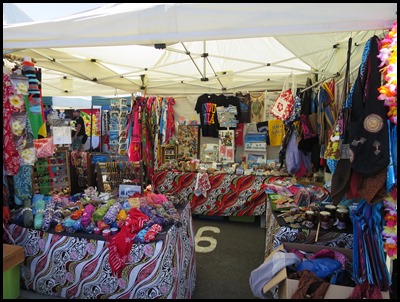 Next, we had a bimble around the outdoor market.
The first time we have seen plants for sale at a market in ever such a long time. The we headed in to the trinket and jewellry building. Whilst neither of us care to drink coffee, walking past the coffee bar the smell was wonderful.
The Tahitian pearl prices made us very grateful that we had bought ours straight from the farmer.
Next, the fruit and veg building.
Such variety after Vanuatu. The fattest ladies fingers dwarfed Bear's stubby finger.
So easy to think that we are France – just a few of the many different olives about the place.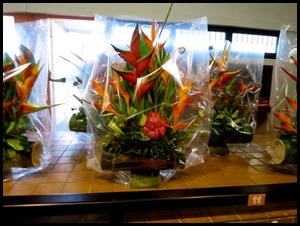 I enjoyed looking at the flowers which ranged from six pounds a stem to thirty six pounds for a display.
We fancied a piece of watermelon. The big half [on the left] came in at twelve quid, mmm. We went back to our favourite Chinaman and got a slice for two pounds.
Well colour me happy. The very last stall we walked past was the only butcher we saw and he had a rabbit – just the one for sale. Bear's favourite stew, he hasn't had one since Dominica, so despite the ten pound cost, I insisted he should have it. Oh, that was just for the bottom half............. Just some apples to get for our onward journey, a mini quiche each for lunch and we made our way home
ALL IN ALL LOVED THE COLOURS AND AROMAS
MARVELLOUS AND I GOT SPOILT
---