Farm Shop

Beez Neez
Skipper and First Mate Millard (Big Bear and Pepe)
Mon 13 May 2013 22:27
Farm Fresh or What
Today Patrick and Archana (Hestia), Jean (Tuatara) and us went to a farm for fresh supplies for our big hop.
We stopped to choose pineapples. Picked our own tomatoes in various stages of very green to nearly ready.
Archana went to pick some chilies, then we bimbled toward the melons.
Time for Bear to choose his narners. I've always wanted to have a whole bunch hanging. Yes dear.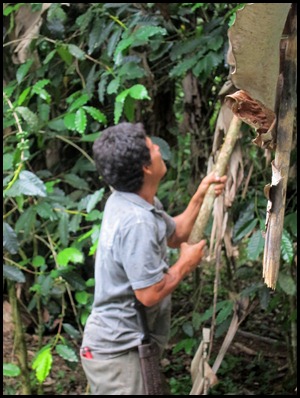 Choose, chop, "timber", drive to the till.
The 'till'. The gang lining up their purchases on the conveyor belt.
A happy smile from Archana as we waited for the papayas to be picked and delivered. Meanwhile Jean chose her small hand .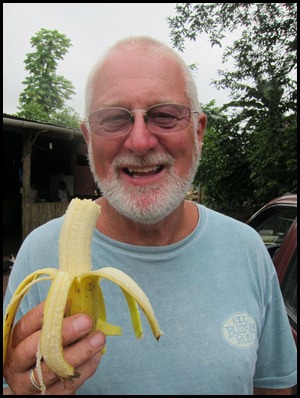 Bear test drove one of his new purchases.
We watched the ducks go mad when they were given watermelon halves.
The stars of the show.
Time to go, we put Bear in the back with the 'shopping'.
We got everything back to Beez. Bear rigged the bananas for a salt bath.
As we dunked the bananas all sorts made a run / swim for it.
Bear in charge of giving his new purchase a good drubbing, OK just one arrrrrrrrrrrrrr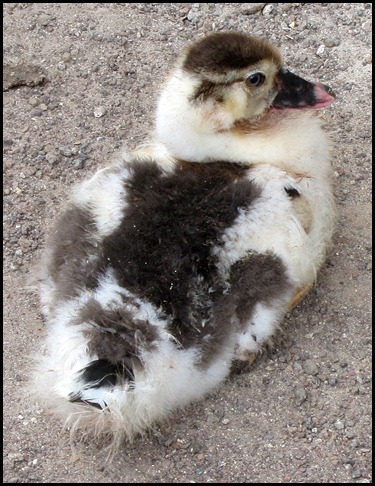 ALL IN ALL YET ANOTHER NEW EXPERIENCE
---