Moeraki Boulders

Beez Neez now Chy Whella
Big Bear and Pepe Millard
Fri 25 Jul 2014 22:47
The Moeraki Boulders
En route to Dunedin we saw the sign to the Moeraki Boulders – a must see, the sea was not far from the main road.
Looking south along
Koekohe Beach
– nothing exceptional.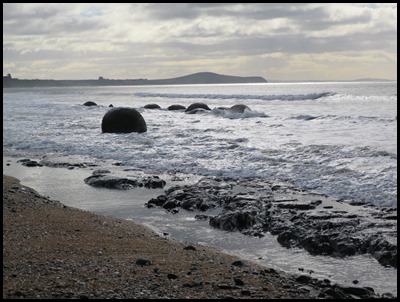 We began to walk north and slowly odd balls came into view.
We got closer, they got bigger.
Very mysterious.
Big and mysterious ?????
We found one buried.
We found a crumbling one.
The spherical boulders on the beach did not originate from bedrock in the way boulders normally do; they are concretions. The process by which concretions are formed is not well understood, but it is similar to the way a pearl forms around a particle in an oyster. The particle could have been a small fossil shell, a bone fragment or even a scrap of wood. The boulders are built up from a mineral called calcite. When they are exposed to the weathering effect of the sea they lose their outer layers, and this leaves hard veins of crystallised calcite standing out in relief – reminiscent of the flax-covered water containers of the Māori legend that explains how they came to be here.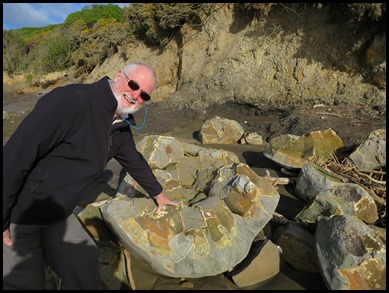 As the weathering progresses the veins control the break-up of the boulder into small polygonal pieces. A large concretion probably took about four million years to form. On Kaitiki beach, to the south, there are smaller boulders of less regular form. The Moeraki boulders are not unique, but they are certainly remarkable for their size - usually more than seven feet in diameter, their highly spherical shape and their numbers in this area.
I wanted Bear to pose, to show the various sizes of the boulders. Just after I took this picture a massive wave came in and all I could do was clap my hand over my mouth. I thought if I reacted he may slip. Yeah Yeah Yeah. I cannot type here what was actually said, far too bad to quote, but there were words that sounded like duck and fit....... They were just the ones you could hear, there were plenty more. Well it only covered your feet in the end. It was freezing cold and I had a tidal wave in my shoes. I'll buy you a cup of tea. Oh when you've stopped laughing so hard. I've got wet eyes. Yes, very funny.
This is your last pose. I know it is.............
We climbed up the steps, me in my sloshing shoes..............and we saw this boulder about thirty feet up from the beach. It is, in fact, the next generation. This has seen erosion of the mudstone within which it formed. In due course the mudstone on which Bear is standing will slump and fall down onto the beach below. It will join the others to await its slow destruction by the sea.
A look from the viewing platform.
Final look.
The Gift Shop on the left and café on the right, were cunningly shaped like boulders......
Time for our first cheese roll. This is a 'thing' of the South Island. We have heard it is a hotly contested item on which town does it the best. Anyway, this was my ticket to getting a smile back on the face of himself. Cheeky little number.
Recipe Ingredients
(Makes 16)
How to make
1. Combine first three ingredients in a medium sized saucepan.
2. Cook over low heat until cheese melts, stirring constantly. Allow to cool.
3. Spread cheese mixture over bread slices. Roll up and if desired brush with melted butter.
4. Place under a preheated grill for 2-3 minutes each side or until golden brown.
Preparation time:
20 minutes
Cooking time:
Ten Minutes.
.
ALL IN ALL VERY DIFFERENT
ALL VERY WET AND COLD.......
---