Bagaya Monastery

Beez Neez now Chy Whella
Big Bear and Pepe Millard
Mon 27 Nov 2017 23:17
Bagaya Monastery
After a very long, very bumpy journey with Nanya (our horse with the cart), we arrived at our first stop, the Bagaya Monastery situated at what felt like the end of a long drive. Of course we had to run the gauntlet of traders selling everything from clothes, jewellery, teak, trinkets, postcards and cans, rock hard discipline and offers of low prices got me through (they target me more than Bear, must be your kindly face – pull the other one, do.....). I went to the top of the steps to wait for Bear who went to get our Archaeological Zone Passes, good for this district and Mandalay, five pounds and fifty pence each.
To our left was a post that was swarming with mosquitos, the smell of the teak in the hot afternoon sun was almost like creosote. The creatures seemed to be drinking the aroma in and had not the slightest interest in the new influx of human tissue. No arguments from me, another thing that never bothers Bear.
We stepped over a plank, about a foot in height and found ourselves in quite a musty smelling room. High, high ceiling, impressive teak posts and many, many bookcases.
Along the hallway was a very young, modern-looking Buddha.
A massive space, many posts and an ornately framed Buddha.
We went toward a noise at the far end of this section. There was a head of a resident monk (just visible) watching his television.
Outside, looking in, a happy clutter. The monk's satellite dish, not something we thought we would see.
Ornate doorframe detail.
The exits in the two back corners were very crumbly.
We had to watch our step with some of the planks in bad shape.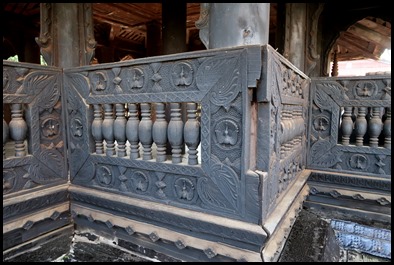 The far side under the pagoda was much more ornate.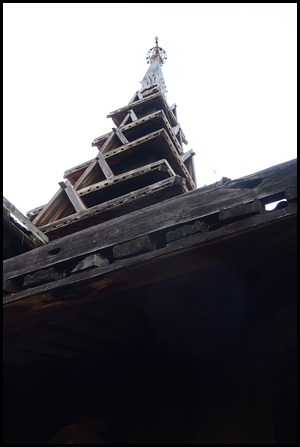 Looking up, creosote ??? a very worn bit.
The outer posts all have concrete caps. I slip my flip flops back on and nip down the steps while Bear gets his shoes on, an unusual sight has caught my eye..........
..........a lady carrying a bag of cement on her head as a monk looks on. The loader on the truck is another lady.
They take a breather, I take a picture of the monastery.................
......off she goes once more.
Back to our trusty little steed and guess who's at the steering wheel.........
.
ALL IN ALL INCREDIBLE WOODWORK
AMAZINGLY BIG PIECES OF WOOD
---