Rakiura Museum

Beez Neez now Chy Whella
Big Bear and Pepe Millard
Wed 6 Aug 2014 22:27
Rakiura Museum, Stewart Island
This has got to be one of the cutest museums we have ever visited.
Outside, Bear posed with the propeller from the Chaser 'Star 12' owned by Ross Havet Whaling Co. based in Prices Inlet in the late 1920's. The anchor is presumed to have belonged to Aladdin. While weighing anchor off Halfmoon Bay in the 1870's, Captain Coppin of the ship Aladdin was killed when the chain parted.
We paid the princely sum of a pound and found ourselves in one half of the museum, packed with interesting memorabilia and a history of early island life.
In the Māori bits was a kiwi handbag, we first saw one in the museum in Russell, exactly the same pattern.
There was a painting of Tarewaiti, daughter of Te Makahi and Hinetapu, she was nicknamed Waimea. She originally came to Colac Bay in about 1830 with her sister to avoid Te Rauparaha's raids. She then lived most of her life at Papatiki at the Old Neck. Two of her daughters married Bill and Bob Sherburd and in her middle age married their father Bob Sherburd, a whaler from Hobart. Waimea died in 1901 aged over one hundred years.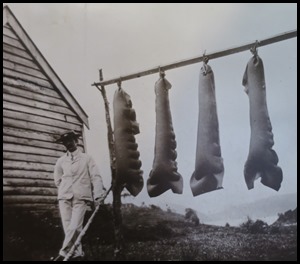 Kelp hanging to dry. The islanders made kelp bags to store the annual cull of muttonbirds - a Māori delicacy, to us the short-tailed shearwater.
This object caught our eye, our guesses were: fog or tsunami warning, fire alarm, a mixing vat for beer, wine or butter. Actually Bear was closest – it is or was, in fact, a washing machine.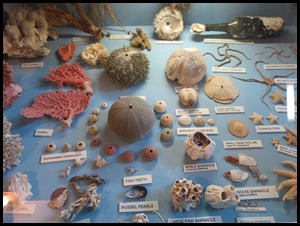 Nick knacks, shells and a wooden leg shoe last.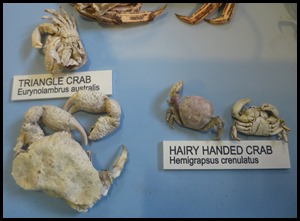 Crabs – very much like to meet the hairy handed crab.
There was a magnificent till, an old switchboard and very impressive was the Certificate from the Royal Humane Society of New Zealand. Presented to Alice Margaret Groomes for saving her father from being drowned in Patterson Inlet, Stewart Island, on the 1st of July 1901.
A first for us to see an American typewriter, invented in 1893.
Sawmilling was an important industry on Stewart Island from the 1860's to the 1930's. This mill was photographed in 1909.
Halfmoon Bay, summer 1904-05. Oban Presbyterian church on the hill. Joseph and John Harrison's fish shed below.
Mackie's Mill moved from Hapuatuna to Big Glory Bay in 1902. This photograph shows George Mackie on the wharf and the newly launched Radium alongside.
We read a lovely story of a sea lady. Norwegian born Captain Korinus Larsen designed and built the sturdy fifty six ton vessel Ranui at Port Pegasus for fishing station manager Bill Thomson. Owing to hard times the vessel took eight years to complete. The keel was laid in Australian hardwood, the hull was of totara, milled from behind the settlement and the decking was of kauri. Ranui, meaning 'of bright sun', was launched on a perfect day in October 1936. She was ketch rigged, twenty point two by five point four metres and powered by twin engines of sixty horse-power, giving her a speed of ten knots. Ranui's colourful career has covered a variety of uses. The sturdy ketch was initially used for the transport of fish and goods to and from Stewart Island. Requisitioned by the Government in 1941, Ranui was given a coat of camouflage paint and despatched to the pacific war zone, carrying out supply missions to secret coast watching stations in the Auckland and Campbell Islands. After the war Ranui continued to service scientific bases and meteorological stations at Campbell an Raoul Islands. She later did a stint with the Island Territories Department plying a route between the Cook Islands and Auckland. For thirty years Ranui operated as part of the Bluff oyster fleet. Today Ranui has been restored to her former glory and is operating as a charter vessel.
Whaling was never a Stewart Island based industry, though it was always a port of call for whalers. From 1829 when shore stations were established on the north side of Foveaux Strait, the island became a place to return to after the season ended. Whalers used Paterson Inlet, Port Pegasus and Port William for "trying out" depots.
Initially the relationship with the locals was cool and distrusting, but this quickly changed. Shopping in Halfmoon Bay, weekend visits, sharing of the 17th May Celebrations with the local community (including Sports for the local children, fireworks and a dance), film shows, and general hospitality brought warmth and regard by both parties
Between 1923 and 1933 the Ross Sea Whaling Company of Sandefjord, Norway (Hvalfangeraktieselskapet "Rosshavet") made nine expeditions to the Ross Sea in Antarctica while using a base in Paterson Inlet. This venture into the Ross Sea was a natural extension from the South Atlantic where operations were based on South Georgia. At South Georgia, Argentinian finance and Norwegian 'know-how' were combined in a profitable business. With the depletion of whale numbers in the South Atlantic, and with good numbers of whales reported by Amunsden in the Ross Sea, another Norwegian explorer and 'sea-dog' Captain Carl Anton Larsen saw an opportunity, and took it.He initiated a Norwegian-based expedition, and purchased the Brocklebank liner Mahronda which had been built in the ship yard of Harland and Wolf at Belfast in 1905, seven years before the Titanic was built there. He converted her to the whale-factory Sir James Clark Ross. He also negotiated a license with London to operate in the Ross Sea, obtained five chasers (Star I to V), and set off on the first expedition. At the same time The Ross Dependency passed to New Zealand jurisdiction and monitoring of compliance with the license became a New Zealand responsibility.The fleet therefore called at Stewart Island after the (southern) summer season in the Ross Sea, arriving for the first time in Paterson Inlet on the 4th of April 1923. The chasers were left in Glory Cove for the winter.In the second year an attempt was made to establish a slip-way on Bravo Island in Paterson Inlet, but from 1926 the Base was located at 'Price's'. Following a glut in the whale-oil market in 1932, whaling activity shifted away from the Ross Sea. The Paterson Inlet facility closed, and the Company moved westward to operate, in part, from facilities in South Africa.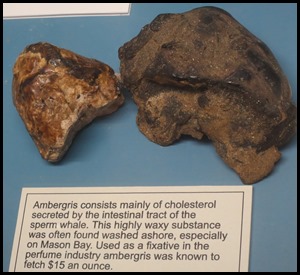 Wherever we go we see artifacts of the whaling industry, here a tooth, an invoice for ambergris and the substance itself. Whatever personal disgust of this business, we have to admit to the bravery of the men who went to sea in flimsy vessels with nothing more than a crochet hook with a bit of string attached. Of course, whaling ships of today are a different matter, but back then, it was more of an equal fight.
ALL IN ALL A LITTLE GEM
INTRIGUING LITTLE MUSEUM
---