LM Forest

Beez Neez
Skipper and First Mate Millard (Big Bear and Pepe)
Mon 16 May 2016 22:47
Lady Musgrave Forest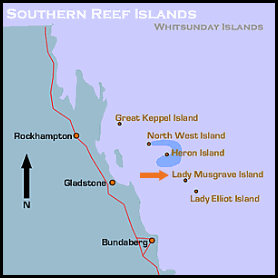 So here we are on Lady Musgrave Island, for Bear's 65th Birthday Bimble. After securing Baby Beez we walked the track to the signs.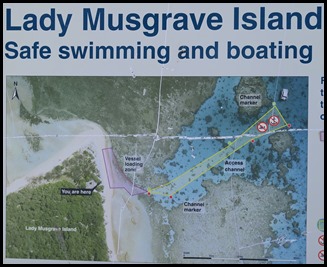 We had parked in the right spot so on we went. To our right benches for waiting ferry, tourist passengers or for the likes of us to eat our picnic.
Opposite the benches were some very comprehensive information boards. explaining just why the Great Barrier Reef is a World Heritage Area. Amazing to read that there are twenty two breeding seabird species within the WH Area with over a million individuals breeding on islands.
The Area is huge.
A little further we saw a sign asking us to check for seeds, none, but if we had we were to deposit them in the tube below.
The first tree by the seed sign was home to a chick waiting patiently for food, we would check on him often throughout the afternoon but for now we couldn't believe that we were in a forest, following a clear path through.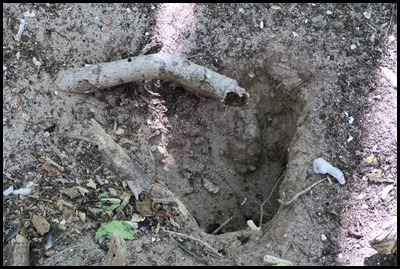 The floor was mostly bare with hundreds of burrows that anywhere else we would have blamed on land crabs.
Unbelievable when we looked at the modest holes that the tunnel to the nest can be as much as two metres long. Amazing to think of a bird burrowing, sure we have met kingfishers that dig in the riverbank but these are some heavy duty excavators.
If a pixie or elf had photo bombed us we would not have been in the least bit surprised. Simply gorgeous.
My Birthday Boy thoroughly enjoying himself. Magical place.
There were spiders webs, butterflies and ants but no worries about snakes, feral cats or dogs or anything else on four feet.
The tree roots were quite something.
Some trees had roots within roots. We see the odd rail, very skittish and incredibly fast.
The Marine Parks sign we found sad but Mother Nature............
We reached a fork, first we went Forest Walk that ended on the beach on the southern side of the island. Then we came back to follow the track to the Camping Area. There we found more information boards and a marker arrow with a handsome chap taking in the late afternoon sun. Good looking legs methinks.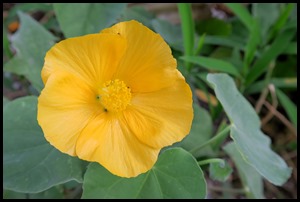 There was access to the beach from the deserted campsite, so pleased to see not a speck of rubbish but people will leave their mark – happily just shells hanging from a low bush. The only flowers we saw were orange with interesting seed pods after flowering. Back to read yet more interesting information near the drop toilets.
Sir Anthony Musgrave
GCMG
(31 August 1828 – 9 October 1888) was a
colonial administrator
and governor. He died in office as
Governor of Queensland
in 1888.

He married in 1854 to Christiana Elizabeth, daughter of the Hon. Sir
William Byam
of Antigua (she died in 1859).

During his tenure in Australia, Musgrave married his second wife, American Jeanie Lucinda Field who was the daughter of
David Dudley Field
.

Their daughter, Joyce, also died in
Adelaide
, in 1874.
The island was named after Lady Jeannie Musgrave. The Musgraves were noted for their lavish lawn receptions held at Government House in Brisbane. In the early 1900's after her husband's death, Lady Musgrave moved to England and, strongly opposed to the women's vote, became the president of the local Anti-Suffrage League.
The blackest part of the National Park's history came in 1904 when Captain Thomas Owen started a turtle soup factory. Under various leases and business names, the factory on North West Island and a cannery on Heron Island operated until 1928.
"To make one ton of extract it takes 440 turtles at 12 a day..... 190 cases of soup takes 288 turtles....." excerpt from a July 1913 letter to Mr S.E. Owen.
"(Turtle soup) is very difficult to move; in fact, it is described as turtle stew, and is not at all liked." Excerpt from a February 1914 letter from London to Walter Reid and Co. in Rockhampton.
1200 turtles were killed at North West Island for soup in 1924 alone. Due to the scarcity of turtles and the lack of a profitable market for turtle soup, the factory closed in 1928.
These cays support one of the few large green turtle breeding populations worldwide, and together with the adjacent mainland coast, the entire breeding grounds of the loggerhead turtle in the South Pacific. Thank heavens people didn't like the soup/stew...........
Stan and Dorothy Bell built a small tourist resort with cabin accommodation on Lady Musgrave Island in 1939. The Bells hosted the multi-millionaire George Vandebilt and the author Zane Grey before the popular resort was forced to close three years later during World War II. It was not reopened.
Over the next decade, the
abandoned buildings were torn apart piece by piece and carted away by various visitors to the island. On a visit to the island in 1987, after an absence of more than 45 years, Stan Bell remarked on the altered landscape, saying "It is obviously a changing world at (Lady) Musgrave".
Guano miners and Goats Strip the Island: Several companies mined guano (aged and concentrated bird droppings) on Lady Musgrave and other nearby islands, including North West and Lady Elliot Islands, in the late 1890's. The last group of miners, J.T. Arundel and Co. released goats on Lady Musgrave Island as food for shipwrecked sailors. The goats stripped the island of most vegetation. A 1932 report stated "the undergrowth has been completely eaten away.... (we could) almost see across the island beneath the canopy of the trees".
Blown Up or Carved Out?: Many vessels have run aground while attempting to cross the reef. The only deepwater access to the lagoon is the sand channel, formed by water rushing in and out on the tides, carving the channel like a riverbed. Some people claim the channel was made or widened by Japanese guano miners, but there is no documentation, and similar sand channels are found at other reefs.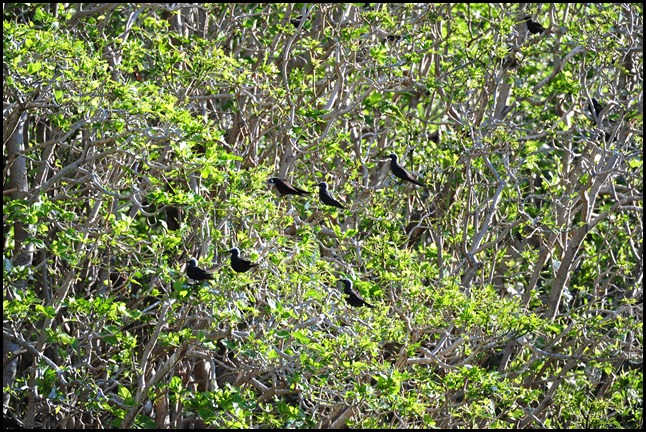 After nearly fifty years of exploitation, half of Lady Musgrave Island was declared national park in 1939 and the remainder in 1967. In 1994 the island was included with seven other cays as part of the Capricornia Cays National Park. The last goats were eradicated in 1974, allowing vegetation dominated by pisonia trees to slowly recover to current mature forest. About 70% of the world's pisonia forests grow in the Capricornia Cays National Park.
Birds such as oystercatchers and wedge-tailed shearwaters returned and turtles have more undisturbed space for nesting. We had seen roped off areas to protect birds who nest in the grass and areas set aside for the turtles.
It was lovely to see the hundreds of birds coming in to roost in the late afternoon. Time for one last walk through this very special forest before heading home.
ALL IN ALL ENCHANTED
AMAZINGLY CLEAR FLOOR EXCEPT FOR ALL THE BURROWS
---