Lion Rock

Beez Neez
Skipper and First Mate Millard (Big Bear and Pepe)
Tue 9 Apr 2013 22:37
Leon Dormido (Lion Rock) or Kicker Rock
Leon Dormido was the first sighting we had of the Galapagos Islands as we sailed past in the morning mist. We hoped to take a day trip and snorkel here and today was the day. As we neared this odd, split rock, we could say it was beautiful but couldn't really say it resembles a lion.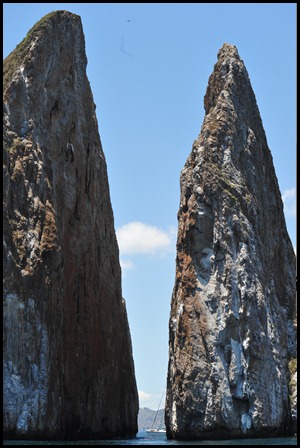 Day trippers come here to snorkel and dive hoping to see hammerhead, white tip and Galapagos sharks, sea turtles and fish.
Incredible to think this rock rises vertically from the sea bed, thank you captain.

Sea birds come to fish and bathe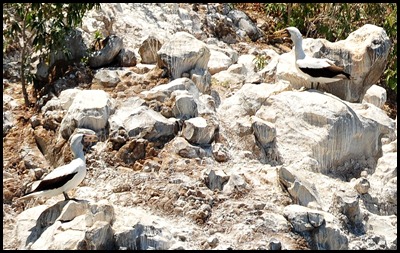 Frigate birds nest here and we saw some masked boobies.
I was happy watching the boobies. Bear was admiring the Planeans home-made fortress anchor.
Sea lions come to rest on the shallower slopes.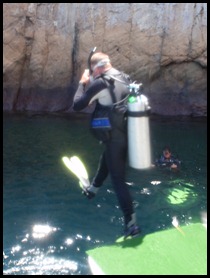 Steve (Scott-Free) readies and jumps.
Steve joined the other divers, we dropped them and moved away for the rest of us could snorkel.
In the depths we saw a massive sea turtle
The biggest barnacles ever and areas of reddish coloured coral
After our first snorkel we were served lunch of rice, salad and fruit juice and the divers readied for their second dive. We set off in the dinghy, dropped to snorkel against the rock wall edge, the water was quite chippy but I was brave. Quite something to be rising up and down six feet or so, following the same rhythm as the fish who were feeding and seemingly having the same fun as we were. Some of the fish we saw.
ALL IN ALL A VERY DIFFERENT SNORKELING EXPERIENCE
I SAW TWO GALAPAGOS SHARKS BUT DIDN'T GET PICTURES
WOW
---