Percy Bimble

Beez Neez
Skipper and First Mate Millard (Big Bear and Pepe)
Mon 23 May 2016 22:57
Middle Percy Bimble
Once again we parked Baby Beez on the beach. Beez is now second from the left as we have a new neighbour in the wonderfully named Rednecks Revenge.
Other than a billion ants all over the beach we couldn't believe how any small plants can manage to grow on barren sand.
Perhaps even more remarkable is this lone flower, just visible in the first picture. We headed for the A-frame and found Richard and Val chatting to Steve who is currently living in the treehouse. He gave us directions to the homestead and told us that a telephone signal was available about forty minutes up the track. Too late today to the hour and a half up to the top, but we needed to see if we could emails, primarily to ease my mind – to see if our Passports had arrived in Cairns yet.
The treehouse.
Off we set, walking through a variety of trees, lots of scurrying lizard types.
Interesting shapes.
A piece of rotting trunk makes for a great wallaby shelter, we did see a couple but very timid and photo-shy.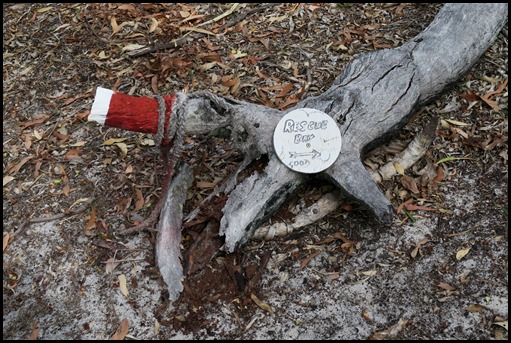 After about half an hour we passed a sign pointing to Refuge Bay, we'll do that detour tomorrow.
View left, ahead and right.
Pine stilts and a butterfly wing. We saw our first snake, warming on the track but the second it felt us approaching it shot into the carpet of leaves, twigs and grass. Only eighteen inches long, brown and very skinny.
Another twenty minutes, on a thoughtfully placed sign. Bear waggled his dongle and got his IPad out. Sixteen messages, nothing from Cairns letting us know they had got mail for us........... O checked my original message from Marie at the Indonesian Embassy – she had posted on the 17th, today the 23rd, mmmm. Tomorrow we will return to this spot, en route to the homestead and check again. Check the tracking number, ring Cairns and then I may have a little raise in heart rate. Bear, as usual is at peace with his word and has every faith – I have already had a loss, the external hard drive full of audiobooks I made for David to listen to out and about on the Uluru drive has never arrived in Alice Springs sent from Newcastle........ and Bear's part sent overnight from Sydney to Newcastle was last heard of in Perth. On that occasion the company he had bought from were very good and dispatched another part and sought the one that had gone 'walkabout'. Oh well, nothing more to be done just now but to head home.
On our way back we passed a load of ants feasting on a caterpillar in Mother Natures great recycling scheme and Bear was a little concerned at the new path made by a much bigger slithering..........
Is that an advertisement for a Prickly Bear, no Pear.
Everyman needs a tool shed no matter where they live or the size of their tools, toys.....
Back to the tree house.
Baby Beez looked a bit stranded up the beach. We are having to get used to tidal heights again after nearly eight years....here around four to five metres.
Our numbers have been swelled by a catamaran we recognise and a total of four fishing ladies. this one having a rest. The owner seen carrying an armful of 'tinnies' toward the A-frame. The various crews from these little boats all set up in swags – one wide open, heaven knows how many ants he will be bedding down with as we found hundreds scuttling around and all over Baby Beez. My flip flop went into overdrive and I discouraged, dispatched or bounced them off. So hope we don't take a stray pregnant female home with us...........
Oh dear, clearly we need to shower. At four thirty we were welcomed aboard Sheer Pleasure and the eight of us (Paul, Paul, Richard, Bear, Annie, Julie, Val and me) had a cracking evening. Sadly, Sheer are off in the morning but we hope to see them again 'down the road'.
ALL IN ALL A GRAND DAY
A LONG, STEEP SANDY MOUNTAIN FOLLOWED BY A REALLY GOOD LAUGH
---