To Charleston

Beez Neez
Skipper and First Mate Millard (Big Bear and Pepe)
Tue 3 Jan 2012 23:27
From Mark Bay to Charleston, South Carolina
The forecast storm came in during the night, blowing to about twenty eight knots with the odd bigger gust. We stayed put in our sheltered spot in Mark Bay (actually no more than a small river crossing the main ICW, but good enough for Beez to tuck her nose in. No need to rush out of bed this morning as a gale warning remains in place across Charleston Harbour until midday. Bear did me boiled eggs for breakfast and we finally stuck our heads out at ten past nine. Anchor up and off at nine thirty for the short fifteen mile journey to the City Marina.
As soon as the anchor was up, Bear very kindly took the wheel. To say the wind was bitter was an understatement. This is the first time we have been dressed up like this since leaving Europe. OK so now I have flirted with the cold, definitely decided it's not for me. It is so easy when you are hot to leap off the back of Beez, to have a fan on at night, but this – .
OK I agree, let's go south. It has made a change wearing a t-shirt in bed, but I do agree. It is so much easier to move around in the warmth and things don't creak quite as much.....
You know it's cold when you see so many chaps huddling in the morning sun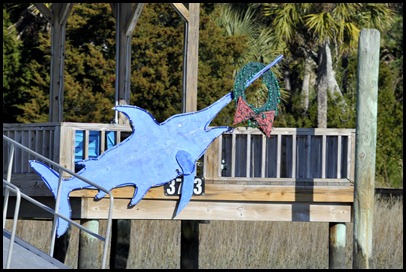 Interesting remnants of Christmas on the Isle of Palms and Goat Island

Out in Charleston Harbour the weather didn't deter Joan Moran from getting about her work
Tourists were daring enough to cross to Fort Sumter. I have promised Bear and his 'itchy trigger finger' a trip over, but when it gets a little warmer.
The Arthur Ravenel Jr. Bridge across the Cooper River opened on the 16th of July 2005, and is the second longest cable-stayed bridge in the Americas. The bridge links Mount Pleasant with downtown Charleston, and has eight lanes with a twelve-foot lane shared by pedestrians and bicycles. It replaced the Grace Memorial Bridge (built in 1929) and the Silas N. Pearman Bridge (built in 1966). They were considered two of the more dangerous bridges in America and were demolished after the Ravenel Bridge opened. The USS Yorktown visible beneath the bridge is the aircraft carrier turned museum.
A girl at work and Charleston Coast Guard, we hear so much on the radio
We are so looking forward to bimbling around the town
The books say there is poor holding here in the bay and we would like to be tourists so we radioed the marina. We were given a spot on the megadock, not busy at this time of year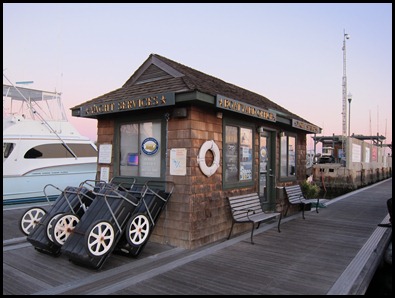 A very long walk to the showers and little office
Beez quietly bedded down. Under the bridge opposite her is the next leg of the ICW, but Charleston first
ALL IN ALL GOOD TO BE HERE
MAKING GOOD PROGRESS SOUTH
---