Chili Cook Off

Beez Neez now Chy Whella
Big Bear and Pepe Millard
Tue 1 Jan 2013 23:37
Chili Cook Off and Bread Contest at Brooksy Point Marina
It took a while to get my feathers straight after Bear's performance this morning
Don't you mean your wor– STOP right there and quit while you're ahead buster – be warned, I have a very sharp implement ready to hand.........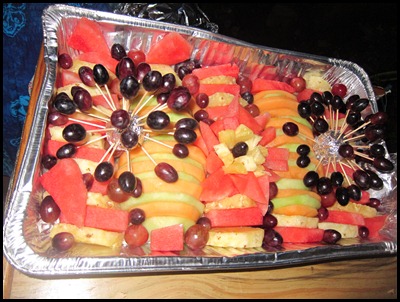 Not being able to eat garlic I took a salad with my signature roses and a fruit salad to share
No sooner than we had arrived than Aubrey (far left), tonight's compere and distant cousin some number removed, asked Bear to be one of the judges. He would have to sample all the bread and chili entries and hand his marks in with the other esteemed panel members.
The breads all looked delicious
The judges went at their task with gusto and in all seriousness
A very high standard when you consider these breads were produced on boats
The rest of us watched American Football whilst the judges went at the chili entries
All entrants posed, Alan was declared the winner, with no hint of divulging his secret recipe and we all dug in.
ALL IN ALL A MIXED OLD DAY
---