Day 1 to Not Sure Where SA

Beez Neez now Chy Whella
Big Bear and Pepe Millard
Tue 10 Dec 2019 06:00
31:00.708 S 30:36.443 E
Day One to Not Sure Where in South Africa
The alarm went off at 03:45, we both attended to pre-journey jobs and once completed the engine went on at 04:30. Permission asked to leave Richards Bay Port Authority, granted, but we had to radio again once we reached the breakwater (we did at 05:30 after passing some working girls).
Along the next wall was Command Buzzard, Beez was happy to follow Althea and Peggy West out toward the main channel.
Once out past the breakwater we had a lovely view of Storm Petrel.
Amazing to leave in such a big herd of
Alexandra, Althea, Bonnie, Canace
(slightly later departure from Zulu Yacht Club),
Eliana, Geronimo, Harmoni, Nauti Nauti, Peggy West, Serafina, Storm Petrel, Zoa
and of course
Beez Neez.
The green boat shapes on the chartplotter (AIS positions) looked quite comical. On a bigger scale even funnier with all the anchored chums.
Soon we were spread out, some found the current a bit quicker than others and it was lovely to be able to chat on the radio. Overnight
Beez
was in company with
Eliana
and
Storm Petrel.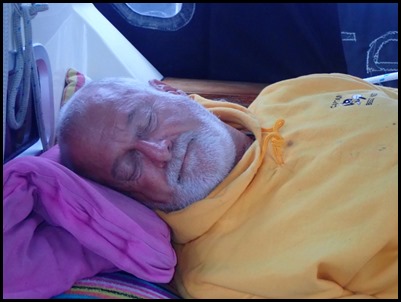 Although I took my 'happy picture' of the skipper, it was very odd for us both to be wearing so many clothes – years in fact. A good distance (157 nautical miles) is now between us and Richards Bay. This weather window may see us reach East London, Cape St Francis or Mossel Bay, we await Des's advice.
Sea conditions mild, little rain overnight and this morning our speed over the ground is between six and seven knots motor-sailing.
Despite Bear squirting one and a half tubes of black sealant along the top of our black line – The Leak Saga continues (but slightly less). Growling.
ALL IN ALL A GREAT START
GOOD TO GET AWAY
---