Livingston

Beez Neez now Chy Whella
Big Bear and Pepe Millard
Sat 22 Dec 2012 22:43
Livingston Again Then
A very gray looking public dock
Bear had always thought I had missed out at not going ashore in Livingston. His logging in and out always saw me staying on Beez. Well here was my big chance. Today high tide would be half past three so plenty of time to move Beez back to anchor off the town, wait for it to stop raining, bail out Baby Beez and go for lunch ashore. Plan then.
My big Livingston debut, to walk up the one road
Turn left at the sheep, Bear really knows how to show a girl a good time
Left at the laundry and into Raul's office (top left) to check the weather
"Just as well you didn't leave" chirped the happy faced Raul as he warmly shook my hand. "I just had a skipper off a catamaran, bashed through forty six knots of wind and washing machine seas to get in here, anywhere would have done as it happens by the look on his face". He told us the weather was due to be awful all day and to stay put for another night, then it was due to settle down again. He kindly let me use his laptop to send off a few emails and put a message on Facebook that we were indeed going to stay put another night.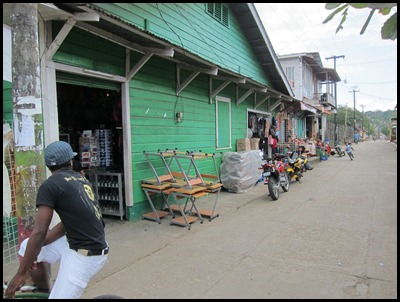 Retail therapy didn't cut it with this girl, but the promise of Chinese lunch did
Skipper of course giggled at the snail cocktail
Bear looked at the Conck and the Meets but settled on the shrimp with rice and beans – Oaa ooooo
Pecalins tucking down for the night
We made our way back to Beez a little down-hearted, perhaps we should have stayed on Lake Izabal for Christmas with Beatrice and Hunda after all. Oh well, when we saw all the Mr and Mrs Pecalins hunkering down we knew it best to stay put. These hardy birds are a really good indicator. Engine on, up anchor we sought the same spot as last night. Well I can be very patient but the first non hold was because of a canvas bag. The second a log. The third, now it's really raining – a branch. The fourth we are in zero water It's holding perfectly said a happy skipper as he trotted back to the cockpit.
No, I retorted, not with the tide going down, we'll be leaning over at a jaunty angle. We had managed to find the hump made at a water course exit.
The fifth was hooking a plastic sheet, now my nerves are getting frayed and my glasses are so wet I need windscreen wipers. The sixth was for no good reason but the pier was coming at me at an alarming rate in the current. This has never happened to us before. All good practice says the gleeful one.
Have you ever seen a disgruntled first mate before
Bear has
Now see first mate reach for the log book pen as if it were a tomahawk.
Return to the pointy end Bear. Swiftly now. Swiftly.
Nerves too jangled now, off I steamed. Round the seaward side of the old pier, to the parking place of some fishing girls and my refusal to go any further. 1.8 metres I shout. Well bless my soul. The anchor took first go............ Time for a strip down and dry clothes. Perhaps a stiff vodka and Baileys mix might put me right.
Make that three large ones then.
If you know what's good for you I strongly suggest you go for the backgammon set before I insert the vodka bottle............... Ooooooooooooo
Oooooooooooo indeed.
ALL IN ALL TIME FOR BED
.
.
---