Mataura Bimble

Beez Neez now Chy Whella
Big Bear and Pepe Millard
Sun 28 Jul 2013 22:57
Our First Bimble Ashore to Matura, Tubuai Island
Bear thought we had a spectacular sunrise this morning.
We went ashore in bright sunshine to walk the quarter of a mile to the capital 'city' of the Austral Islands. The sign pointed us in the right direction (on the reverse it showed the direction of Taahuaia). Opposite the dinghy dock was what looked like a 'one careful owner' petrol station, a closer look we saw diesel at $1.74 – not bad at all. We found a green, lush, flat area with interesting trees.
After the petrol station every house we saw looked carefully owned. Bear had read in one of the yachtie books that five hurricane-type storms struck in this area in 1982-3 during an El Nino event (extremely rare), perhaps the owners just rebuilt, hopefully toward town or we feel we've landed in a ghost town.
Close to the shore was this beauty.
'Out of Town' supermarket.
A motel, for sale, complete with JCB.
A drainage ditch we passed had amazing blue lilies.
My kind of island. Sandy beaches, the threat of fresh bread and novel dwellings.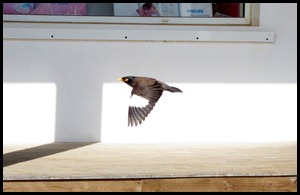 A new bird on us and a healthy looking pony.
Finally pretty houses, well kept potato fields that the island is famous for, supplying the other islands and flowers.
This big flower had a lovely perfume.
As we have come to expect every car that passed, passengers waved enthusiastically, people on bikes stopped to say hello. A very jolly man pointed to a side road with directions to the police station. On route we stopped at another supermarket and I was in transports of ecstasy as I ate my first strawberry mivvi in years, Bear was as excited with his choc ice on a stick. We also bought two chocolate croissants for breakfast in the morning, two apple turnovers for supper – what more do we need. The police station was closed but should have been open – another recoveree from last nights festival that didn't end until four thirty this morning just before the rooster struck up, not that we are complaining as the lagoon is duck-pond smooth and very peaceful. The nice constable asked the skipper to come back tomorrow.
Next we found the post office to get a wi-fi signal, opposite the bay.
We found our new jolly friend ran a produce stall. WOW lettuce, cucumber and tomatoes, immediate purchases, along with taro. We said we had never eaten it before and were shown a cooked platter of mixed veg and banana. Our friend gave us a sample – tastes very similar to yam. Behind the stall was the mans house, divided into a café, grockle shop selling shell necklaces and no sooner than I spotted what looked like lemon meringue tart than Bear was told it had bananas at the bottom; than a piece was plated and wrapped in cling film. Off down the main road went the happy captain. The taro and banana made for an interesting ratatouille to go with Bears salmon fillet and dollop of mash. I was in heaven with fresh salad, corned beef, mash and salad cream – the only thing missing to achieve perfection was pickled onions. Maybe when we get to the big supermarket in Tahiti. Oh deep joy.
Boat Park, Baby Beez waiting and Beez bobbing.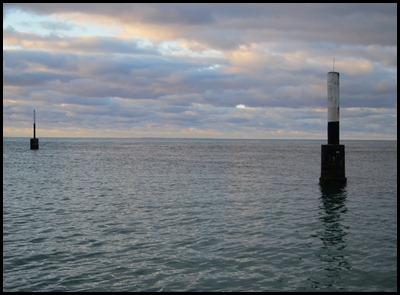 Nice to see nothing locked. Our way out buoys.
Sunset was spookily just like sunrise.
ALL IN ALL SMASHING
A FUN, GENTLE BIMBLE
---